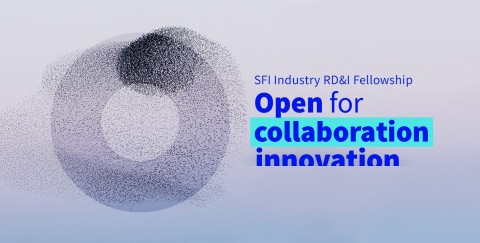 Minister Harris announces investment of €1.63 million in SFI Industry RD&I Fellowship Awards
Academia-industry collaboration to support innovation in microbiology, virtual reality technology, smart manufacturing, biotechnology and photodynamic therapy.
Thursday, 27th April 2023: Minister for Further and Higher Education, Research, Innovation and Science, Simon Harris, TD, today announced an investment of €1.63 million in 18 awards under the SFI Industry RD&I Fellowship Programme, to develop cutting-edge innovations across a variety of areas including microbiology, virtual reality, biotechnology, photodynamic therapy and more.
The researchers in receipt of this fellowship are provided with an opportunity to be immersed into industry and gain relevant business knowledge and experience. Industry partners hosting the researcher will benefit from the expertise of the Fellow being embedded in their company, brining innovative solutions to industry challenges.  
The industry partners collaborating on these 18 awards will provide co-funding with a combined value of €1.34 million. The SFI Industry RD&I Fellowship programme runs in collaboration with IDA Ireland and Enterprise Ireland.
Announcing the projects, Minister Simon Harris, TD, said: "I am delighted to announce the SFI Industry RD&I Fellowship Programme recipients who will undertake new transformative research in companies. Our research community continues to pioneer cutting-edge, innovative research ideas. The research projects selected for this funding are a testament to the talent that exists in our Higher Education Institutions, and I look forward to seeing the outcomes generated through this programme which will shape the years ahead."
Commenting on the new awards, Professor Philip Nolan, Director General of Science Foundation Ireland, said: "Encouraging and supporting ambitious and innovative research collaborations with industry is a core objective of Science Foundation Ireland. The SFI Industry RD&I Fellowship Programme was developed with this in mind. The research projects awarded funding are at the cutting edge of innovation. The programme creates exciting opportunities for researchers and enhances the industry partners' competitive advantage and future resilience. These Fellowships often also lead to longer-term collaborations between industry and academia."
Fellowships run for between one and twelve months and can be taken on a full or part-time basis. The maximum industry RD&I Fellowship award amount is €100,000 (SFI direct costs). Applications for the 2023 SFI Industry RD&I Fellowship call are now open with two submission deadlines. The first submission deadline is on 13 June 2023; the second submission deadline is on 3 October 2023.