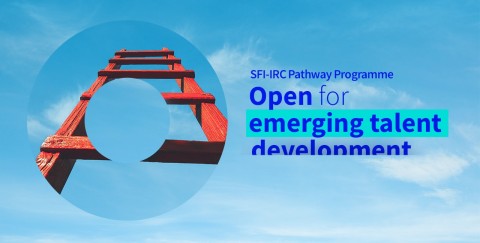 SFI-IRC Pathway Programme
Supporting the development of research talent across all disciplines
Irish Research Council (IRC) and Science Foundation Ireland (SFI) are delighted to partner on the SFI-IRC Pathway Programme.

This programme will support talented postdoctoral researchers from all research disciplines to develop their track record and transition to become independent research leaders.  
The programme welcomes research proposals from any discipline within Science, Technology, Engineering and Mathematics (STEM) and Arts, Humanities, and Social Sciences (AHSS). Applications of an interdisciplinary nature which draw together insights and approaches from one or more research disciplines will also be welcomed. The maximum funding request permitted under the SFI-IRC Pathway Programme is €425,000 direct costs over a period of four years which includes a contribution to the salary of the applicant, and the stipend and fees for a PhD student. Please refer to the Programme Call Document for further details.
Potential applicants are advised to consult the call document for details regarding updates to the eligibility criteria.  
Those meeting the programmes eligibility criteria and wishing to apply to the SFI-IRC Pathway Programme 2022 call must first seek pre-approval from an eligible research body. Once SFI and the IRC have received a research body's approved candidate list in advance of the deadline (22nd July 2022), nominated candidates will then be invited to submit a full proposal. SFI and the IRC recognises the continued need for equality, diversity and inclusivity across the research ecosystem, and are committed to addressing the gender imbalance within the higher education sector by increasing the number of grants held by female researchers. To this end, each research body may nominate a maximum of 16 STEM-led and 8 AHSS-led applications. No more than eight of the 16 STEM-led, and four of the 8 AHSS-led, nominated applicants may be men. Upon submission to SFI and IRC all applications will be treated equally regardless of the gender of the applicant.
|   | STEM-Led | AHSS-Led |
| --- | --- | --- |
| Amount | €425,000 (direct costs)   | €425,000 (direct costs)   |
| Duration | 48 Months | 48 Months |
| Applications/RB | 16 | 8 |