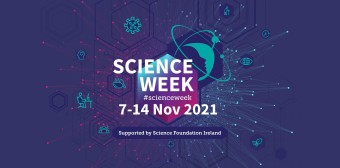 The Sligo Science Fair
The Sligo Science Fair
Saturday 6th & Sunday 7th November
12.00 - 5.00 pm each day
The Annual Science Fair will include a wide range of performances, interactive displays and demonstrations for all the family to enjoy. Experiments, Discovery and lots of fun guaranteed for both children and adults.
Saturday will be timed advanced bookable workshops inside IT Sligo
Sunday will be drop in demonstrations and activities with outdoor activities at the Sligo Science Market and shows taking place inside IT Sligo.
All inside activities are advanced bookings only, through our website from 18th October.
Outside activities are non- bookable 'drop in on the day'
Activities include:
Saturday: The Amazing Wonderstruck Air Powered Rockets, Crankpot Machine Art Workshop and Dr Ken's Circus Science Workshop.
Sunday: The Science of Bubbles Show, Science Experiments on the Street, The Wonderstruck Rocket Show, Nature Challenge, The Chemical Crew, Mad Professor, The Wonder of Marine Life, The Power of Levers, The All-Ireland Pollinator Plan, CSI- Murder Mystery, Soil Makers, Creating Our Future, A Geologist, a Biologist and Chemist walk into a field……… and much more
See www.sligosciencefestival.ie  for further details and bookings.

Online Webinar with Dr Helen Pilcher
Online Webinar with Dr Helen Pilcher
Wednesday 10th November, 11.00am - Secondary Schools only event
Could woolly mammoths walk the Earth again? Could Jurassic Park become reality? Could Elvis Presley be resurrected from a sample of hair bought on eBay? De-extinction – the ability of scientists to bring extinct species back to life – is fast becoming reality and the implications are both profound and far-reaching. Join tea-drinking, biscuit-nibbling science and comedy writer Helen Pilcher as she explores the limits of scientific possibility and the cutting edge science making de-extinction a reality. A former stem cell biologist gone rogue; Helen Pilcher is author of 'Bring Back the King: the New Science of De-extinction' and 'Life Changing: How Human's are Altering Life on Earth.'

Chemistry in the Movies
Chemistry in the Movies
Wednesday 10th November, 7.00pm, Public Event (15+)
This short and snappy talk will take a scientific and filmographic look at how chemists and chemistry have been portrayed in the movies. It will use short clips and simplified graphics to talk about the topic in an engaging and light-hearted format. The movies chosen for this discussion are based around a number of themes; problem solving, plot devices, chemical companies and people. Details about where and how to access the relevant movies in Ireland will also be provided (Netflix, Youtube, Apple etc). We hope this talk will give you the inspiration to start your own chemistry movie marathon! This talk is aimed at adults as there are some references to movies and themes which are certified 15.
Dr John O'Donoghue is the Royal Society of Chemistry (RSC) Education Coordinator for Ireland. On behalf of the RSC he supports trainee and established science teachers through the development, adaption and provision of CPD and resources based on the Irish curriculum. He is based at the School of Chemistry, Trinity College Dublin (TCD) where he teaches chemistry to non-science students and coordinates the unique chemistry education and public engagement (EPE) course for science PhD students.
The Sligo Science Festival, supported by Science Foundation Ireland (SFI), is a week-long programme of activities and events each November, which aims to make science more interesting and accessible to children and adults alike.
The 2021 Sligo Science Festival, including the Sligo Science Fair was a blended delivery of Live, in person events and Virtual online events.
The Sligo Science Festival website offers further information - visit the site here: www.sligosciencefestival.com
The Festival highlighted how science, technology and engineering are hugely relevant to us all in our everyday lives, lead to interesting and exciting career options and develop creativity in our children. The Sligo event was organised by the School of Science at IT Sligo with events taking place at various locations and venues across the County during National Science Week.
For more information please see our brochure here.