Midlands Science Festival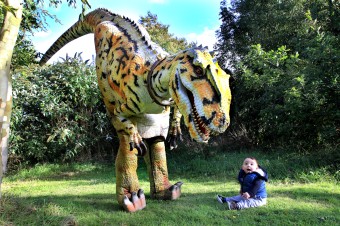 The Midlands Science Festival is back in person with a bang, some dogs and cats, a swim, a pint of a beer, a dinosaur and much more !! After two years of online delivery due to the impact of Covid 19, the Midlands Science Festival is back this year all across the midlands, with a  range of activities for all age groups. 
Highlights include an evening with Ireland's favourite vet Pete the Vet, exploring the science of cats and dogs, in a unique event supported by Zoetis. Those who fancy a swim or even just a cold water dip are in for a treat with a Swim Ireland supervised swim in Lough Ree followed by hot food and a talk with Dr Catherine Kelly, author of the acclaimed book "Blue Spaces." The Discovery Day in association with Integra is also back with reptiles, dinosaurs, superheroes and much more and takes place in Tullamore.  
Midlands Science continues its partnership with the National Museum of Ireland and this year the focus is on Offaly and school workshops will be delivered, followed by an event for families and an event for the general public.  
One of the most popular online events Midlands Science had in the past number of years was a programme exploring the science of resilience with psychologist  Dr Andrew Magee and he will be speaking this year in Athlone, exploring what science can tell us about resilience and getting through tough times. We can all learn a little from science about how to bounce back better.  
Midlands Science will be exploring the science of golf with Dr Eoghan O'Neill, a sports psychologist who specialises in golf and this event takes place in Athlone Golf Club. Looking for something a little faster, then join Midlands Science for a unique online event with Dr Barry Fitzgerald exploring the science of Formula One racing and you can be in with a  chance to win a day in the pit at Mondello !! With support from the Royal Society of Chemistry, Dr Craig Slattery will delving deep into the world of beauty and the chemistry beasts in an event separating the science and the marketing that often collide in the world of beauty products.  If you fancy a drink after all this activity, join Midlands Science for a  drink in Dead Centre Brewing with Prof John Morrisey of UCC,  where the science of brewing and beer will be explored in the midlands hippest venue.  
There's also plenty more on offer including an astronomy night in Lough Boora Parklands, an ecology walk, outreach to schools, a climate change project with students from Athlone and sustainable living workshops. The Midlands Science Festival is supported by Science Foundation Ireland, through the Discover Programme. Midlands Science is supported by the Ireland Funds, the Naughton Foundation, the Medtronic Foundation and a range of other corporate and philanthropic supporters. Booking for events and all details are available on www.midlandsscience.ie and on social media channels.  
Highlights  
Dive In! The Science of Swimming  
November 13th at 11am Coosan Point, Athlone, Co. Westmeath.   
Whether you are a dedicated dipper or a super-enthusiastic open water swimmer, you are welcome to join Midlands Science for a Swim Ireland supervised dip and swim at Lough Ree, Coosan Point, Athlone. Following your dip or swim [no pressure, it's up to you how far you want to go], hot food and refreshments will be served in the Lough Ree Inn and an interview will take place with Catherine Kelly, author of "Blue Spaces", the best selling book which explores why we love swimming and water so much. It turns out that blue spaces have a range of unique effects on our physical and mental health and Catherine Kelly has explored this topic for years as  a geographer. So dive in and join Midlands Science and Swim Ireland for a swim, food and a fun discussion.