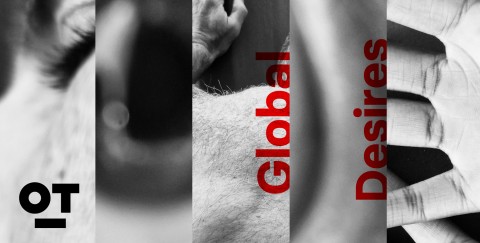 Global Desires Project part of Human! Science Week 2023
New Inter-media Performance Events by Outlandish Theatre Platform
A typewriter, limbs, lips and a three headed monster are vital elements of desire. Aren't they?  With Global Desires, Outlandish Theatre Platform dares you to delve into the symbolism and connectivity between everyday human desires and the desires affecting the global human community. Performers address questions of desire essential to them - the desire to seduce, the desire to know more, the desire to not know any more, the desire for an end to corruption in government, the desire to play without considering the consequences and the desire for autonomy and basic human rights whilst living in Direct Provision.
Global Desires will offer audiences the opportunity to explore complex realities through a trio of events – the redux version of Gorky's Summerfolk, a performance making workshop and a performance conversation where compelling questions in relation to desire are contemplated by a neuro-scientist and an art historian and physicist.
The centrepiece of the project is the radical redux Summerfolk performance inspired by Maxim Gorky's Summerfolk and co-created with professional and community performers in Dublin, Brasil and Cork. In Summerfolk, friends gather for a summer party and lay bare their extraordinary and ordinary desires, against a social context of pre-Russian revolution splendour. In Global Desires, at a picnic a century later, the group explores the performativity of desire in this classical text from their own lived experience perspective. Invoking the Bataillean anti-capitalist saying, 'a kiss is the beginning of cannibalism' will lead you to question - "am I the cannibal or the devoured one?"
With the ongoing success of their co-creative performance-making platform, this seventh Open Theatre Practice project by Outlandish Theatre Platform continues to push the boundaries of art and activism, questioning the purpose of theatre. The audience can expect a feast for the senses, with inter-media elements that connect performers in different localities to the global questions.
This production brings together an extraordinary ensemble of performers, each contributing their individual performance research to create a mesmerizing experience of voyeurism and accountability, with a concept by Maud Hendricks and a boundary-pushing creative team of nouvelle vagues, Oli Ryan on sound, Liza Cox on scenography and costume, James Hosty on movement and Pedro Pacheo on lighting.
Maud Hendricks, co-founder of Outlandish Theatre Platform, shared her excitement: "With Global Desires, we aim to create an immersive experience that resonates with audiences on a profound level. Our ensemble of exceptional performers brings a range of perspectives to the table, allowing us to explore desires in all their complexity."
Bernie O'Reilly, co-founder of Outlandish Theatre Platform, added: "We're thrilled to once again collaborate with a team that is as passionate about pushing artistic boundaries as we are. With multiple events taking place as part of our performance experiment with Science Week, Human!, Global Desires is an opportunity to connect with the audience in a unique and transformative way."
Dr Ruth Freeman, Director of Science for Society, Science Foundation Ireland, said: "Science Week 2023 is asking people to consider what it means to be human in today's world, from a wide range of perspectives. This production looks to address that central question in an experiential and disruptive manner, and we are delighted to support the project."
Funded by the Arts Council | An Chomhairle Ealaíon, Science Foundation Ireland, Dublin City Council and supported by the Coombe Women and Infants University Hospital and The Digital Hub.
The ensemble cast of Global Desires includes:
Ingrid Beatriz, Fióna Bolger, Polina Cosgrave, Laurence Cunningham, Joan Somers Donnelly, Mark Dyer, Clara Fitzgerald, Fatoumata Gandega, Neo Gilson, George Hooker, Daniel Kamenyezi, Bernie O'Reilly and Luca Pierucci.
Co-creation science panel: Neuroscientist Paul Dockree and other speakers
Creative Team: Viviane Monteiro Barbosa, Larissa Brigatti, Liza Cox, Maud Hendricks, James Hosty, Bernie O'Reilly, Pedro Pacheco, Oli Ryan
Follow us on social media for updates:
Instagram: @outlandishtheatre
Twitter: @OutlandishT
Facebook: @OutlandishTheatrePlatform
For further information, interviews, or media inquiries, please contact:
Outlandish Theatre
Tel: 0871261582