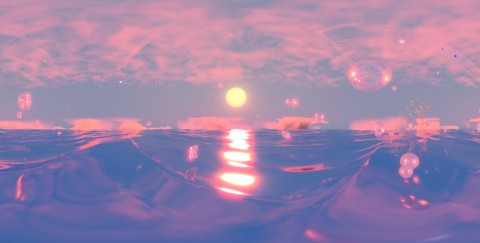 Caibleadh
1iing Heaney X iCRAG SFI Research Centre for Applied Geosciences
1iing heaney is a visual artist from Bray, Co. Wicklow. She uses CGI film and print to explore interactions between technology and geological time. She graduated from NCAD with first class honours in Fine Art Media & Visual Culture in 2015. In 2020, 1iing completed an animation Certificate in Pulse College, Dublin. 
Selected exhibitions and achievements include ZAZ10TS, a group digital installation in Times Square, New York (2020), solo exhibitions, 'Hyper-' in Pallas Projects/Studios (2019) and 'Terrestrial/Satellite' in 126-Artist Run Gallery, Galway (2018). 1iing has received support from the Arts Council through the Visual Arts Bursary (2020) and the Covid-19 Response Award (2020). She has also received support through the Wicklow Arts Office for the Strategic Project Award (2020), and the Artist Bursary (2016 & 2019). Artist residencies include RES 1, Lay of the Land, Co. Kerry (2019), the Emerging Irish Artist Residency Award, Burren College of Art (2016), and the Cultural Dialogues Residency, Mart, Dublin (2016). 
1iing has an on-going collaboration with the artist Emily Aoibheann. With whom, she has co-designed shows 'Smiling Devil' , Dance House, Dublin (2017), 'Mother of Pearl', and 'Sorry Gold', both presented in the Project Arts Centre, Dublin in 2019. 1iing also teaches workshops in the 3D animation software Blender in Block-T, Dublin 8. Recently, 1iing has been working with Mermaid Arts Centre, Bray in the co-facilitation of the Youth Film Project, Temple Carraig Secondary School, Greystones. 
iCRAG is the SFI Research Centre for Applied Geosciences. We are a team of researchers creating solutions for a sustainable society. 
We develop innovative science and technologies to better understand the Earth's past, present, and future and how people are connected to it. 
We drive research in areas that are critical to society and the economy, including: 
Sustainable discovery of energy resources and raw materials required for decarbonisation. 
Securing and protecting groundwater and marine resources. 
Protecting society from Earth's hazards such as flooding and landslides. 
Underpinning these research challenges is our work in enabling methodologies in the areas of geophysics, geochemistry and 3D modelling, along with our research on the public perception and understanding of geosciences. 
iCRAG, the world leading SFI Research Centre in applied geosciences hosted by UCD, comprises 150 researchers across eight universities and institutions. iCRAG is supported by Science Foundation Ireland, the European Regional Development Fund, Geological Survey Ireland and industry partners. 
Artist Statement
'Caibleadh', a VR 3D animated film made by 1iing Heaney in collaboration with the iCRAG SFI Research Centre for Applied Geosciences and part-funded by The Arts Council, explores the otherworldly environment of the ocean. Using engaging colours, textures, objects, and sound, the viewer is positioned in the place of a scientific instrument. We follow its descent into the sea to explore an unknown and alien world, with music by Tiiva.
"This is inspired by the research process of iCRAG where researchers deploy instruments at the surface of the water and record their descent into the unknown."
This film combines data gathered by scientific equipment, underwater photographs, and creative interpretation to visualise the ecosystem, formations, and movement on the seafloor. 'Caibleadh' details a speculative environment where technological interventions interact with natural entities.
This film allows space for audio and visual conversations between natural, mechanical, and mythological creatures to take place. Under the waves, animals, machinery, robotic arms and sea creatures interact with soft and delicate movement. The accompanying soundscape, developed in collaboration with the musician Tiiva, further combines sounds from field recordings, hydrophones, and folk song. This combination of sensorial audio-visual elements will make visible the complex ecosystem and formations previously unknown under the water.
SFI Research Centre Statement
Dr Fergus McAuliffe, Eoghan Daly, Dr Mark Coughlan and Andrew Trafford
iCRAG, the SFI Research Centre for Applied Geosciences, is pleased to collaborate with visual artist Liing Heaney in an exploration of our marine geoscience research. Much of our research takes place in the sea, from the shallows of the Irish Sea to deep marine canyons in the Atlantic Ocean offshore Ireland. Our researchers Dr Mark Coughlan, Eoghan Daly and Andy Trafford use cutting-edge technology in the fields of seismics and acoustics to image the seabed for areas suitable for renewable wind energy farms, understand how the sea and seabed change over time, and deliver greater insight into the environment and behaviour of marine mammals.
The artistic interpretation of our work created by Liing Heaney allows the viewer to experience our work from a unique, immersive viewpoint. Taking the viewer from the surface of the sea all the way down to the sea bed Liing's artistic piece expertly brings light to an environment of darkness and sound to a place of echoes, murmurs and stillness. The piece is perfect for primary school learners to experience life in the deep sea and how our researchers are exploring its mysteries.