Ireland is a competitive, innovative country with ambitions to become a global innovation leader.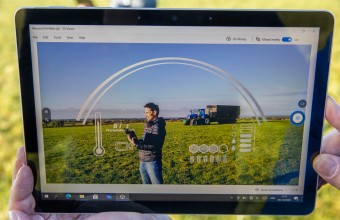 SFI seeks to foster academic-industry interactions by building strategic partnerships with industry to perform cutting-edge, industry-informed STEM research, enhancing our competitive advantage and helping to build resilience. The scientific advances resulting from SFI funding lead to new products, innovations and services, new companies, spin outs and high-value jobs.
SFI Strategic Partnership Programme
In 2020, €8.5 million was invested in three awards under the SFI Strategic Partnership Programme. The Programme is a flexible mechanism for academic researchers to build strategic collaborations where significant co-funding is matched by a company, funding agency, charity, philanthropic organization or Higher Education Institute, or a combination of these. It aims to support standalone initiatives of scale with strong potential for delivering economic and societal impact to Ireland.
Pictured right: Microsoft Terrain AI Technology, a project funded under the SFI Strategic Partnership Programme, in action.
Driving Competitiveness Key Statistics 2020
SFI Future Innovator Prize Challenge Funding
The SFI Challenge-based funding programme is an ambitious solution-focused funding approach that uses prizes, diverse teams and competitive funding, within a set timeline, to accelerate research activities to address societal problems.
SFI is working to develop meaningful partnerships with Government departments to develop STEM solutions to address challenges. In 2020, SFI supported challenge-based funding calls to address major societal challenges in the areas of climate change, sustainability, and the responsible use of data and AI. These included four projects co-funded with the Department of Foreign Affairs.
Pictured right: Participants at SFI Future Innovator Prize Programme workshops which took place in SFI offices in January 2020. Front row l-r: Steven Ferguson (UCD), Andreas Hoepner (UCD), Mary McCarthy (DFAT), Ruth Freeman (SFI), Stephen O'Brien (TCD), Charlie Spillane (NUIG). Back row l-r: Tony Keane (UCD), Conor Leonard (WEEE), Theodor Cojoianu (UCD), Georgiana Ifrim (UCD), Seamus O'Shaughnessy (TCD), David McCloskey (TCD), Aaron Golden (NUIG).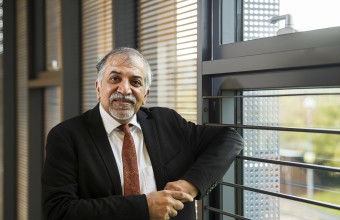 SFI Generating Value for Money
In 2020, SFI-funded researchers significantly increased the amount of funding they competitively won from other diverse sources, demonstrating continued strong return on investment, value for money, and scientific excellence. SFI-funded researchers won €255 million from diverse sources; secured €106 million in funding from EU sources and €49.6 million in funding from private enterprise.
The SFI Research Centres link scientists and engineers in partnerships across 910 research bodies across the globe, including nine Irish universities and seven Institutes of Technology, representing a cumulative SFI investment of €684 million and an industry commitment of €466 million. The Centres have signed 1,033 collaborative research agreements (CRAs) with 527 companies around the world (272 in Ireland) and attract industry which make important contributions to Ireland's economy, and expand STEM educational and career opportunities.
Pictured left: Prof Abhay Pandit, Centre Director of CÚRAM, the SFI Research Centre for Medical Devices.
Explore The Report - Our Key Chapters