Empowering Societal and Economic Benefits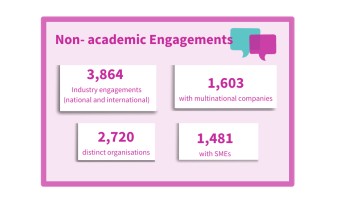 SFI's investment benefits the whole country by driving job creation, establishing new academic-industry research partnerships, attracting multinational companies, and supporting the growth of small and medium-sized enterprises. It also supports an inclusive, engaged research and innovation system that is integral to addressing major societal issues, ranging from climate change to health and well-being, and to deliver solutions for the good of future generations.
SFI Generating Value for Money
SFI-funded researchers continued to demonstrate scientific excellence, research relevance, return on investment and value for money in 2022.
SFI-funded researchers won €267 million from diverse sources.
SFI-funded researchers secured €85 million in funding from EU sources.
Funding from private enterprise was €61.2 million.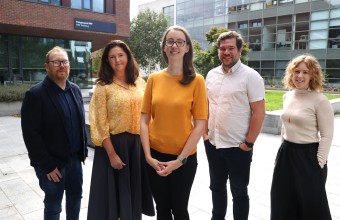 Empowering Sustainable Solutions Through Challenge-based Funding
Challenge-based funding works to address our biggest societal challenges by focusing on proposed solutions developed over tight timelines. Two prize awards of €2 million were awarded in 2022, investing in further research for sustainable solutions to everyday problems. The Grain-4-Lab team from DCU received €2 million in funding in the Plastics Challenge to continue developing its solution to make sustainable laboratory consumables using waste produced from the brewing and distilling industry. A runner-up prize of €250,000 was awarded to the Microplastics-free Plastics team from TCD.
Pictured left: The Grain-4-Lab team at Dublin City University
The Food Challenge was won by researchers from TU Dublin and Teagasc in the Leaf No Waste team, who are working on extending the shelf life of fresh produce through a combination of fortified plants and new compostable packaging.
Ten teams competed in the SFI-Defence Organisation Innovation Challenge in 2022, tasked with coming up with solutions for challenges faced by the Irish Defence Forces. Ideas included a portable device that detects biological agents, AI technology to assist the Irish Air Corps to fight wildfires, new techniques for improving radio communications and a co-operative system for humans and robots to work together to manoeuvre aircraft. Seven research teams were also active in the Sustainable Development Goals Challenge in partnership with Irish Aid, working on ways to improve health and well-being across different age groups in partner countries.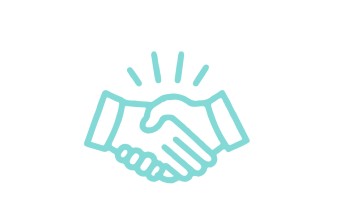 Building Strategic Partnerships
In 2022, a €5.87 million research partnership was supported through the SFI Strategic Partnership Programme to produce an advanced software development and integration platform, in collaboration with industry and international partners. R@ISE (Research at Immersive Software Engineering) is a University of Limerick-led research project investigating low-code/no-code approaches in software engineering, where developers as well as non-developers are equipped with the tools to design, develop, verify and deploy applications quickly, with minimum to no prior knowledge of coding, for solutions in data management, privacy and
security.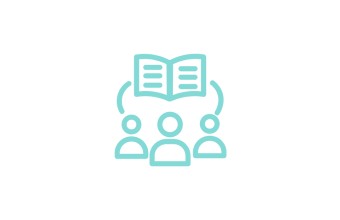 Promoting Knowledge Sharing
The SFI Industry RD&I Fellowship supports research, development and innovation (RD&I) in industry by providing the opportunity for companies across the world to host an academic expert at various stages of their career who have attained a PhD.
In 2022, six grants were made to support the temporary placement of academic researchers in companies The projects funded include a terahertz (THz) transmission and characterisation facility at DCU, that will extend the existing capabilities of the university sector in Ireland, enabling further interdisciplinary research and growing Ireland's expertise in areas where THz is a key enabling technology.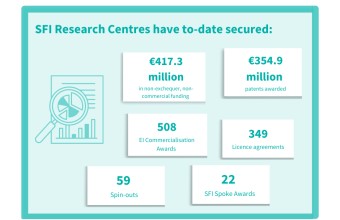 SFI Research Centres
The network of 16 world-leading SFI Research Centres is supporting the delivery of transformative research, discovery and innovation, as well as training students with critical, in-demand skills, enhancing enterprise and industry, supporting regional development, and enhancing Ireland's international reputation.
They link scientists and engineers in partnerships across 1,101 research bodies across the globe and have signed 1,426 collaborative research agreements with 688 companies – 366 of which are in Ireland. Of these 688 companies, 317 are multinationals, while 340 are small and medium-sized enterprises, with the remainder being a mix of startups and 'other' company categories.
Explore the Annual Report 2022 Chapters