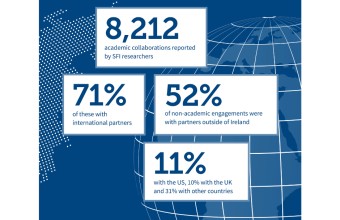 By cultivating stronger ties with world-leading universities and research institutions, SFI supported researchers are enhancing Ireland's research capabilities and developing cutting-edge solutions to some of our most pressing challenges.
In building strategic international partnerships to drive economic and societal impact, SFI is attracting top global research talent, building researchers' networks and expanding the international footprint of Irish research, as well as supporting the Government's Programme for a Shared Island research corridor.
SFI's international collaborations have extensive global reach: Europe (67.93%); North America (18.19%); Asia (8.58%); Australia and Oceania (2.89%); South America (1.45%); Sub-Saharan Africa (0.58%); Central America and the Caribbean (0.24%) and Middle East, North Africa, and Greater Arabia (0.14%).
SFI St. Patrick's Day Science Medal
The prestigious SFI St. Patrick's Day Science Medal recognises distinguished Irish scientists, engineers or technology leaders living and working in the USA, for their significant scientific contributions to academia and industry. In 2022, Taoiseach Micheál Martin TD presented the Medal to Prof Donald McDonnell, Associate Director for Translational Research for the Duke Cancer Institute and Glaxo-Wellcome Professor of Molecular Cancer Biology at Duke University, North Carolina, and to John and Patrick Collison, founders of the finance software company, Stripe.
Pictured right: Recipient of the SFI St. Patrick's Day Science Medal for Industry, and President of Stripe, John Collison, with President of the University of Limerick, Prof Kerstin Mey and recipient of the SFI St. Patrick's Day Science Medal for Academia, Prof Donald McDonnell, who is the Associate Director for Translational Research for the Duke Cancer Institute, North Carolina.
SFI US-Ireland Programme
Twelve awards were made in 2022 through a tripartite research and development partnership between the United States of America (USA), Republic of Ireland (RoI) and Northern Ireland (NI). The joint investment of €21 million, of which SFI is contributing €6.1 million, is supporting more than 35 research positions in the Republic of Ireland and 25 research positions in Northern Ireland, across 27 research institutions. The research projects funded are in the areas of energy and sustainability, quantum networks and telecommunications, nanomaterials, optics and photonics; tissue engineering for tendon reconstruction; and sensor monitoring for water quality and peatlands.
Pictured left: US-Ireland awardees Dr Rebecca Rolfe, Prof Paula Murphy and Natalie Jablonski (TCD) are researching tissue engineering fortendon reconstruction.
New Initiatives
A new programme to foster collaborations of scale between the researchers in Ireland, Great Britain and Northern Ireland was launched in 2022, with a focus on research in the thematic areas of climate, and sustainable and resilient food systems. The ambitious Co-Centre Programme will establish virtual Centres of distributed excellence linking researchers across academia and industry to perform cutting-edge research in areas of mutual economic, societal, health and environmental importance. Representing an investment of €74 million, the programme is managed by SFI and co-funded through the Government's Shared Island initiative, Northern Ireland's Department of Agriculture, Environment and Rural Affairs (DAERA) and UK Research and Innovation (UKRI), to help to bring scale and cohesion to the research and innovation ecosystem.
Read the full overview of SFI's international partnerships in 2022 in the full report [link to PDF]
Explore The Report - Our Key Chapters