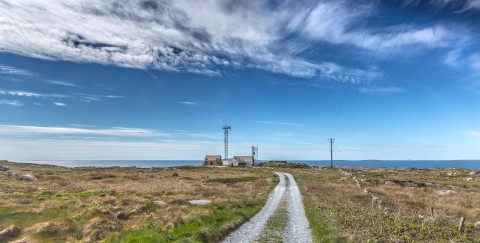 Connemara: A key point for measuring air quality and climate changes
When it comes to air moving across the planet, Ireland is in a unique spot to measure it. And that is exactly what happens at the Mace Head Atmospheric Research Station in Carna, Co. Galway. The facility plays a key role in monitoring global atmospheric air quality and pollution, and to helping us understand how the atmosphere works and how the climate is changing.
"We have a fairly unique research station here on the western coast of Ireland where we essentially measure the cleanest and dirtiest air not only in Europe, but in the northern hemisphere," explains Professor Colin O'Dowd, Professor of Physics at NUI Galway and Director of the Ryan Institute's Centre for Climate and Air Pollution Studies (C-CAPS).
"When we have air arriving in from the Atlantic ocean, normally it is really clean and free from human influences, then in contrast when we have air moving out towards the ocean from Europe, we can quantify the air pollution we are exporting."
As well as examining Particulate Matter (PM) in the air, researchers at Mace Head station, which is part of the MaREI, SFI Research Centre for Energy, Climate and the Marine, also monitors the main greenhouse gases and ozone depleting substances in the atmosphere at that point.
Mace Head is not a standalone observation facility, explains Professor O'Dowd. "It is networked both nationally and globally, essentially connecting our local to regional scale climate and pollution issues to the global scale," he says. "This is achieved through the realtime Earth Observation and Forecasting data system, StreamAIR."
One of their latest outputs is the StreamAIR-AQ, Europe's first interactive air pollution app to allow everyone across Europe to access essential information about the levels and nature of air pollution in their area in real time, along with air pollution forecasts. They worked with SFI Insight SFI Research Centre for Data Analytics in developing the data visualisation aspects of the app.
"We want to increase awareness among people of how polluted or clean the air is and why. Given that air pollution is the biggest threat to environmental health, it is important that every citizen in Europe can access these data and associated information in the palm of their hands. StreamAIR essentially puts the atmosphere in you hand"
That awareness is important against a backdrop of rising carbon dioxide levels, which Mace Head has been tracking for more than 30 years. "Ours is one of the more important data records in the world, because we have been monitoring gases in the atmosphere such as ozone, methane and carbon dioxide for so long," says Professor O'Dowd.
"We have shown that the levels of carbon dioxide are rising year on year and there is no let up, it is reaching record levels (410 ppm) and it is tracking with global temperature. There is no doubt that the warming we are seeing is mainly from carbon dioxide accumulation."
Researchers at Mace Head look at the interactions between air pollution and climate change – for example, how PM particles in the atmosphere affect cloud formation. The goal is to ensure that the observational and research results from the research underpin the development of smart and co-beneficial policies for clean air and climate change.
"Some actions that are good for climate might end up being very harmful for public health and air pollution," says Professor O'Dowd. "So we are looking to support the right adjustments to policy where we have a win-win for climate and human health."