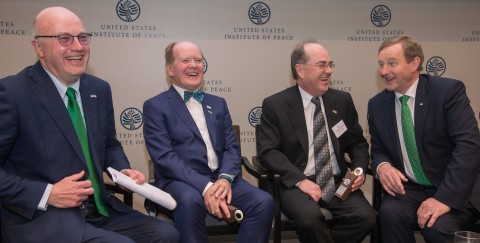 Taoiseach Enda Kenny announces SFI St. Patrick's Day Science Medal to Alltech founder Dr Pearse T. Lyons and world leading statistician Prof Adrian Raftery in Washington D. C.
Washington D.C., 15th March 2017 – An Taoiseach Enda Kenny TD, has today presented Science Foundation Ireland's (SFI) prestigious 'St. Patrick's Day Science Medal' to Dr T. Pearse Lyons, founder and president of Alltech, and Prof Adrian E. Raftery, Professor of Statistics and Sociology at the University of Washington, for their significant contribution to academia and industry.
Now in its fourth year, the SFI St. Patrick's Day Science Medal recognises the outstanding contributions of Dr T. Pearse Lyons and Prof Adrian Raftery in their respective fields, as well as their role in developing the research ecosystem in Ireland. The Medal is awarded annually to a distinguished Irish scientist, engineer or technology leader living and working in the USA.
Congratulating the recipients at an award event held in the United States Institute of Peace in Washington D.C., An Taoiseach Enda Kenny TD, said:
"I am delighted to present the SFI St. Patrick's Day Science Medal on behalf of Science Foundation Ireland, to these two exceptional leaders. Dr Lyons and Prof Raftery have both had a huge impact in their own areas of expertise and played pivotal roles in the development of researchers in Ireland." 
"They have demonstrated how academic and industry based scientific research can create jobs, tackle global problems and impact positively on people and society. These distinguished Medal recipients are driving globally significant innovation in the areas of agriculture, food production, health, and population and weather forecasting, to name just a few."
Dundalk-born biochemist and entrepreneur, Dr T. Pearse Lyons, is the first Irish scientist to have created a global business based on scientific research.  With the aim of creating the next 'green revolution' to improve the health and performance of people, animals and plants, Dr Lyons founded Alltech, in 1980 with just $10,000 in capital.
He has subsequently led the company to now having annual sales of $3 billion, trading in 128 countries worldwide and employing more than 6,000 people. Dr Lyons and his team at Alltech remain committed to innovation and development, with three Alltech biosciences centres dedicated to research and education - two located in the U.S. and one in Dunboyne, Co. Meath.
Dublin-born Prof Adrian E. Raftery has been described by his peers as one of the most eminent statisticians in the world.  His work has resulted in the development of new statistical methods, focusing particularly on the social, environmental and health sciences. Prof Raftery's work to quantify statistical uncertainty in demographic projections has fundamentally changed approaches to population forecasting. This was demonstrated by the United Nations recently publishing a recalculation of world population projections, which directly incorporated Prof Raftery's work.
Prof Raftery has been a leader in developing new Bayesian statistical methods for model selection and model averaging, as well as model-based clustering.  He has also worked on studies which have fundamentally changed our understanding of whaling populations, the prevalence of HIV/Aids and weather forecasting.
At the event in Washington, D.C., Dr Lyons said: 
"I am so proud to accept the SFI St. Patrick's Day Medal from Science Foundation Ireland. While my business is global, my passion for biochemistry and entrepreneurship started at home in Ireland. As a company, we still have very close links to Ireland with one of our three biosciences research centres based in Dunboyne, Co.  Meath. Science and technology play a very important part in my company's success and all of the Alltech team work to innovate every day. We strive to put scientific research at the core of our business and to use that research to drive our success at home and abroad."
On accepting his SFI St. Patrick's Day Science Medal, Professor Raftery said:
"I developed my passion for statistics during my time at St. Conleth's College in Dublin and at Trinity College Dublin.  Statistics is vital to science, including the social sciences, and it is progressing rapidly with the current growth in big data and data science. I'm proud to have contributed to the development of statistics at University College Dublin in recent years. Statistics in Ireland has been developing fast and this will provide a competitive advantage for Irish science and industry. I'm grateful to SFI for supporting my visit to Ireland in 2013-14 as a SFI Walton Fellow, which galvanised several successful collaborations with UCD, TCD and the Central Bank of Ireland. The continued support for this and other research programmes, even during the economic crisis, shows that there is a broad consensus in Ireland for supporting scientific research, which bodes well for the future of the country.  I am very honoured to receive the SFI St. Patrick's Day Science Medal."
Congratulating the recipients Prof Mark Ferguson, Director General of Science Foundation Ireland and Chief Scientific Adviser to the Government of Ireland, said:
"The Irish scientific and technology diaspora are outstanding representatives for Irish science abroad and play a huge role in promoting Ireland internationally. The research undertaken by these two Irish leaders has had a profound and diverse impact across the globe. As a nation, we should be immensely proud of the influence that Dr Lyons and Prof Raftery have had in their respective fields and indeed, across the globe. In presenting them both with the SFI St. Patrick's Day Science Medal, Science Foundation Ireland recognises the significant value and impact of their work."