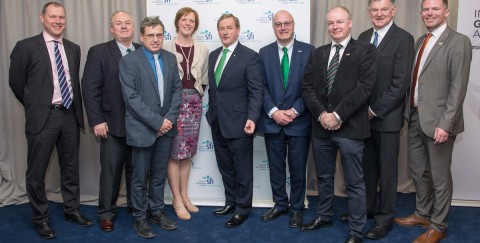 Taoiseach announces transatlantic collaboration to provide entrepreneurship training for SFI researchers
Science Foundation Ireland collaboration with U.S. National Science Foundation (NSF) Innovation Corps (I-Corps™) programme results in 10 awards with a value of €334,603
20 Science Foundation Ireland-funded researchers drawn from SFI Research Centres will participate in newly established I-Corps@SFI partnership
Participating teams, which comprise academic researchers and entrepreneurial mentors, will travel to U.S. to undertake entrepreneurship training as part of the NSF I-Corps™ Curriculum
Washington D.C., 16th March 2017 – An Taoiseach Enda Kenny TD, today announced a new Science Foundation Ireland cross-Atlantic collaboration with the U.S. National Science Foundation (NSF) Innovation Corps (I-Corps™) programme, that will see 20 Irish-based researchers benefit from entrepreneurial training in America.
The NSF's ground-breaking I-Corps™ Curriculum will prepare scientists and engineers to extend their focus beyond the laboratory and broaden the impact of research projects. The announcement marks Science Foundation Ireland becoming the first European Funding Agency to implement the highly regarded NSF entrepreneurship programme.
Announcing the investment, An Taoiseach Enda Kenny, TD, said:
"I am delighted to announce this international collaboration led by Science Foundation Ireland, which will support and cultivate entrepreneurship in the research community in Ireland. This is a significant step towards achieving the innovation and entrepreneurship skills outlined in the Irish Government's science strategy, Innovation 2020."
"This programme aligns well with our commitment to having one of the most highly skilled and innovative workforces in the world. By fostering increased entrepreneurship, we will also see greater commercialisation of cutting-edge research, giving us a globally competitive advantage."
Speaking at the announcement, Professor Mark Ferguson, Director General of Science Foundation Ireland and Chief Scientific Adviser to the Government of Ireland, said: "This extremely prestigious programme builds on Ireland's international reputation for research excellence, and on the long-standing relationship that exists between Science Foundation Ireland and the NSF. It will greatly enhance Ireland's innovation potential, with SFI-funded researchers receiving immersive, real-world training in bringing scientific and technological research to market."
The programme will involve teams participating in an intensive and immersive boot camp, delivered at some of the most prestigious universities in the U.S. This will be followed by a mentored programme that will see teams interview up to 100 potential customers over a six-week period, using collected observations to arrive at a viable and validated business model for a proposed technology.
"The NSF I-Corps program has already enabled researchers to expand their horizons far beyond the lab into the marketplace, and has bolstered the U.S. national innovation ecosystem," said Barry Johnson, acting NSF Assistant Director for Engineering, which oversees the NSF I-Corps program. "The new SFI-funded teams will contribute to the global innovation environment, providing new opportunities for international collaborations and helping to provide novel approaches to solve some of the world's most pressing problems."
Teams will learn the most up-to-date skills and techniques for opportunity discovery and business model development. These are based on the Lean LaunchPad methodology, developed by renowned Silicon Valley serial-entrepreneur, Steve Blank of Stanford University. Lean LaunchPad is an evidence-based entrepreneurship methodology that employs the scientific method to discover economic and societal impact opportunities for technologies.
To date, more than 900 research teams across the U.S. have completed the I-Corps™ curriculum and over 360 start-up companies have been created.