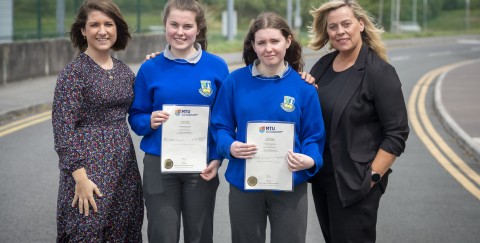 Celebrating International Day of Women and Girls in Science
To celebrate International Day of Women and Girls in Science we are highlighting the STEM Passport for Inclusion. This initiative, led by Dr Katriona O'Sullivan at Maynooth University, addresses gender inequalities among female pupils in socially disadvantaged communities through an innovative programme of mentoring and education supports.
The national programme will empower 5000 Transition Year girls, from unrepresented communities, to participate in the STEM skills programme over the next two years. These students have the opportunity to gain a Level 6 STEM qualification which may not otherwise be available to them, and go on to apply for STEM courses at Maynooth University, Munster Technological University and Atlantic Technological University.
Dr Katriona O'Sullivan, said: "The STEM Passport for Inclusion aims to ensure that every girl, irrespective of class or condition, will graduate from school with a STEM qualification, having met a woman in STEM who can inspire and support them. In the coming two years the Stem Passport will reach out to 180 DEIS schools, reaching 5000+ girls, working with 400+ mentors. We will provide these girls with a university experience, an industry mentor and new pathways to college and careers in STEM. I am excited to lead this initiative, as a working-class woman who has experienced many of my own challenges on my road to success. It is extra exciting to be working with so many great partners, including Microsoft DreamSpace, Accenture, Optum, MTU, ATU and so many others, to make a large scale change in the Irish education system. Our vision is simple, we want STEM education and employment to be fair and equitable."  
The funding is awarded jointly by Science Foundation Ireland, the Department of Education, and Microsoft Ireland.