Discover STEM and your Universe at Ireland's Space Week
~ 100 national events, world leading space experts ~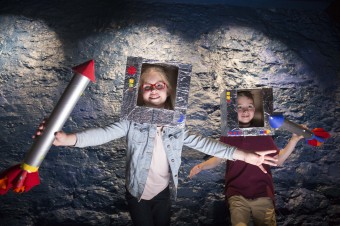 Ireland's Space Week, the country's newest national STEM Week, will take place nationwide in parallel with World Space Week from October 4-10.
Space Week, now in its second year, is designed to encourage people to explore our incredible Universe and raise public awareness of the benefits, challenges, and inspiration of space exploration and Earth observation.   This year's theme 'Our Planet, Our Space, Our Time' and events series will explore how, as 21st century citizens under one sky, we can use the power of critical thinking and STEM (science, technology, engineering and maths) to shape our understanding of life on Earth and our place in Space. 
National organisers for this prestigious event are Cork's international award-winning Blackrock Castle Observatory (BCO), in association with Science Foundation Ireland and European Space Education Resource Office (ESERO) Ireland.
With over 100 events in 18 counties, many of which will be hosted by world-leading experts, this promises to be an exceptionally exciting and engaging programme with something for everyone. 
Participants will enjoy stargazing, astronomy talks, workshops, mobile planetarium shows, rocket launches, fun space experiments, they will hear about space careers and they will learn about the Life of an Astronaut. Or discover the Universe from your own home using the fun space activities on spaceweek.ie. Schools are encouraged to Book a Space Speaker for the Classroom and take advantage of a wide range of experts who will share their stories on video throughout Space Week.
One of the event highlights includes pushing human limits to the extreme, by former Deputy Administrator of NASA Prof Dava Newman and designer Gui Trotti, who has worked for Nasa on lunar bases, Mars vehicles and the International Space Station.
The European Space Education Resource Office (ESERO) Ireland in association with CIT BCO will provide resources for special courses for teachers about engineering in space, there will be workshops for kids and with the help of online resources you can build your own models of a spacecraft, a star lantern and even the International Space Station from everyday objects.
Event highlights include:
Designing for Extreme Human Performance in Space
CIT Cork Monday 9th October (daytime); Blackrock Castle Observatory (free open night): UCD Dublin Tuesday 10th October
Space experts Gui Trotti and Dava Newman will discuss pushing human limits to the extreme, drawing on their extensive experience applying architecture and design to space applications. The talk and Q&A session will center around exploration, education, design, architecture, and science.
Architect Gui Trotti focuses on designing for extreme environments, such as Antarctica and has worked for NASA on lunar bases, Mars vehicles, and the International Space Station.
Dava Newman, former Deputy Administrator of NASA, and Professor of Aeronautics and Astronautics and Engineering Systems at MIT, focuses on space travel, especially to Mars. With the idea of long-duration space travel in mind, she is designing space suits to combat things like extreme bone loss. She gives a lot of focus to the mathematics involved with the development of the suit design in order to improve suit mobility and practicality.
Voyager, Cassini and towards the Stars
National Gallery Dublin, Thursday 5th October
National Space Week visual talk, celebrating the 40th anniversary of Voyager 1 & 2, Cassini to Saturn and proposed missions to the nearest stars.
Blackrock Castle Observatory Cork, Friday 6th October
Open Night at CIT's Blackrock Castle Observatory; free screening of The Farthest, an incredible Irish documentary that tells the tale of the amazing Voyager spacecraft now more than 12 billion miles away, about to leave our Solar System and enter deep space – the first human-made object ever to do so. stargazing, launch of art exhibits by CUIG, Mayfield Arts Centre, Jackie Manley and Sarah Roseingrave.
Diary of a Martian Beekeeper
CIT Cork, Friday 4-7 October
Space and theatre enthusiasts alike are in for a treat with the world premiere of Dr. Niamh Shaw's new show.  It's set in the future in 2036.  Niamh is on Mars and​ is a ​member​ of Crew 173, on a long duration mission to investigate new ways of growing food in this arid foreign land. As their 2-year mission comes to an end, one crucial experiment remains for Niamh. But will she overcome her personal struggles or put the whole crew and the mission in danger? Anyone interested in getting a better understanding of the detail that goes into getting someone to Mars will be fascinated by this show.
Leisureworld Bishopstown, CIT Cork, Saturday 7 October
Get a spectacular chance to dip your toes into the deep world of space!  The Irish Underwater Council (IUC) and Science Foundation Ireland are running this event which combines space, weightlessness and diving.  Following talks by experts in extreme environment living Ireland's top SCUBA instructors will be on hand to bring you through the experience of weightlessness in the safety of the Leisureworld Bishopstown pool. The talk is free to attend and tickets for scuba diving are only €5. Booking is essential.  Please note the scuba diving element is available of over 14's only. Snorkeling is available for all age groups.
Why not make a day of space and go along to the matinee of Niamh Shaw's Diary of a Martian Beekeeper that same day!
Space Week runs from October 4th-10th, 2017.  See www.spaceweek.ie for the full programme of events.  Discover Your Universe!  #SpaceWeek17 www.spaceweek.ie