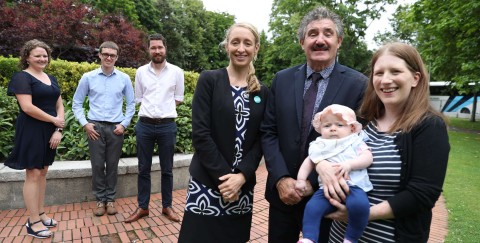 Science Foundation Ireland welcomes the announcement of three prestigious Royal Society-SFI University Research Fellowship Awards 2017
Tuesday 4th July- Minister for Jobs, Enterprise and Innovation, Frances Fitzgerald TD, and Minister of State for Training, Skills, Innovation, Research and Development, John Halligan TD, joined Science Foundation Ireland today in welcoming the announcement of three new awards under the Royal Society-Science Foundation Ireland University Research Fellowship scheme.
Welcoming the announcement, Tánaiste Frances Fitzgerald said: "I am delighted to congratulate the three researchers who have been awarded Royal Society-Science Foundation Ireland University Research Fellowships. The achievement of this award from the Royal Society is recognition of their talent and creativity, and clearly demonstrates that they can compete alongside the best in the world."
The scheme, which is funded by Science Foundation Ireland, is aimed at outstanding early career researchers, providing them with an opportunity to build an independent research career and become future leaders in their fields. Applicants can apply for up to five years' research funding at an eligible institution in Ireland, with the possibility to apply for competitive renewal for an additional three years.
The three 2017 Royal Society-Science Foundation Ireland University Research Fellows are:
Marius de Leeuw (Trinity College Dublin)
Symmetries in Solvable Models
Dr Niels Warburton (University College Dublin)
Accurate waveforms for extreme-and intermediate-mass-ratio inspirals
Dr David Wilson (Trinity College Dublin)
Excited charm resonances from Quantum Chromodynamics

Minister John Halligan said: "It is great to see the continued success of the Royal Society-Science Foundation Ireland University Research Fellowships Scheme, which builds on Ireland's international reputation for research excellence. By fostering such international collaborations, we will see cutting-edge research and innovative discoveries become a reality, providing us with the opportunity to address global research challenges."
Professor Mark Ferguson, Director General of Science Foundation Ireland and Chief Scientific Adviser to the Government of Ireland, said: "Science Foundation Ireland invests in world-class scientific research and this prestigiousprogramme recognises those with the potential to become Ireland's future research leaders. I wish the three awardees every success in their careers and I hope their achievements will encourage other early career researchers to apply for the fellowships. We are very pleased to continue our partnership with the Royal Society to enable researchers to participate in the University Research Fellowships programme."
The scheme covers all areas of the life and physical sciences, including engineering and mathematics, but excluding clinical medicine and direct biomedical research. Successful candidates will be awarded a fellowship by the Royal Society.
The next round (2018) of the University Research Fellowships will open for applications on 17 July 2017 and will close on 4 September 2017. In line with the Society's aim of supporting excellence and the next generation of research leaders, from this round, applicants of any nationality will be able to apply to hold a University Research Fellowship at a UK or Irish institution.
In total, the Royal Society announced the appointment of 43 new URFs for 2017. The researchers will take up their new posts at institutions across the UK and Ireland at the start of October.
12 out of the 43 new appointments (28%) were made to female researchers. In total, there are 21 universities across the UK and Ireland hosting the Fellowships. For a full list of University Research Fellows, please visit the Royal Society website.