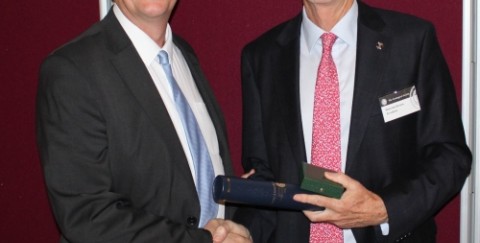 Professor John Walsh Awarded Geological Society of London's William Smith Medal
Professor John Walsh, Director of the Science Foundation Ireland funded Irish Centre for Research in Applied Geosciences (iCRAG), Professor of Structural Geology in the School of Earth Sciences in UCD and Co-Director of the Fault Analysis Group in UCD has been awarded the Geological Society of London's William Smith Medal for 2017. 
The award is given for international excellence in contributions to applied and economic aspects of geoscience. Awardees must have initiated significant contributions, which will normally take the form of published papers and verifiable achievements in the application of geoscience.
Prof. Walsh's research has investigated the long- and short-term (i.e. earthquake) growth of fault systems, the impact of faults on fluid-flow on a range of scales (e.g. basin to mineral deposit), and the definition of new analytical and modelling techniques for a range of fault-related technical issues. Prof. Walsh founded the Fault Analysis Group with Prof Juan Watterson in the University of Liverpool, in 1985. He became Director in 1996 and oversaw the re-location of the Group to University College Dublin in 2000, together with its current Co-Directors Profs Conrad Childs and Tom Manzocchi. For more than 30 years the internationally renowned research group has carried out basic scientific research on all aspects of faults and other types of fracture and has then applied these results to practical problems, principally in the groundwater, hazards, hydrocarbon and mineral industries.
On receiving the award, Prof. Walsh said, "I am deeply honoured to receive the William Smith Medal. The award is a huge endorsement of the work of our group, the Fault Analysis Group, over the years. I would like to thank all of my colleagues who have been central to the success of our research, in particular Conrad Childs, Tom Manzocchi, Andy Nicol, and the late Juan Watterson. I look forward to continuing our research on the many and varied aspects of faults and fractures, work which has sustained us for so long, both as members of the Fault Analysis Group and, more recently, as members of iCRAG."
Congratulating Prof. John Walsh on his award, Prof Mark Ferguson, Director General of Science Foundation Ireland and Chief Scientific Adviser to the Government of Ireland, said, "I am delighted to see one of Ireland's leading scientists, and Director of the world-leading SFI Research Centre iCRAG, recognised for his outstanding research over many years. Prof. Walsh's research has contributed to an improved understanding of geological faults; an understanding which on the one had is important for societies globally e.g. earthquakes and on the other have can also lead to major economic impacts as faults often control the flow of groundwater, hydrocarbons and mineralising fluids. I look forward to Prof. Walsh continuing his ground-breaking research on 3D modelling of the earth's subsurface and the supply of natural resources."
President of University College Dublin, Prof. Andrew Deeks, said, ""This award recognises the truly global excellence of Professor Walsh's research in applied geoscience. It is a wonderful acknowledgement of his dedication and commitment to scientific research for the past 30 years."
Founded in 1807, the Geological Society of London is the oldest geological society in the world. Today, it is a world-leading communicator of Earth science – through its scholarly publishing, library and information services, cutting-edge scientific conferences, education activities and outreach to the general public. It also provides impartial scientific information and evidence to support policy-making and public debate about the challenges facing humanity.
iCRAG is funded under the Science Foundation Ireland Research Centres Programme and is co-funded under the European Regional Development Fund.