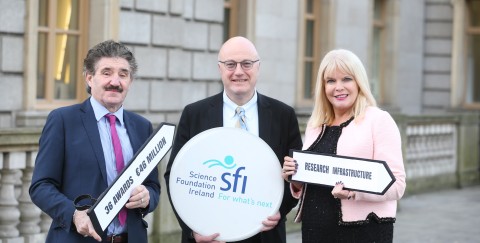 Ministers Mitchell-O'Connor and Halligan Announce €47.4million SFI Investment in Research Equipment and Facilities
12 February 2017 - Minister for Jobs, Enterprise & Innovation, Mary Mitchell O'Connor, TD together with Minister for Training, Skills and Innovation John Halligan, TD today announced a new investment by Science Foundation Ireland of €47.4 million in 36 research infrastructure and facilities projects.
Announcing the awards, Minister Mary Mitchell O'Connor, said; "Today's investment in infrastructure by Science Foundation Ireland is an investment in the future of research and development in Ireland. It forms a key part of implementing our science and technology strategy – Innovation 2020. Top quality infrastructure combined with our talented workforce further increases Ireland's appeal in the global market. Industry partners will directly benefit from the enhanced infrastructure through opportunities such as international partnerships and collaborations facilitated by Science Foundation Ireland researchers in our Higher Education Institutions."
Commenting on the awards, Minister John Halligan, said; "Today's announcement of this investment by Science Foundation Ireland will support the installation of world-class research infrastructure at both a national and regional level.  Such top-class facilities and equipment are essential for Ireland to attract investment and talent to our regions, and to train a highly skilled and innovative workforce."
The SFI Research Infrastructure Programme provides research groups with necessary equipment and facilities for the performance of high quality, impactful and innovative research. The programme ensures Irish researchers have the capacity to apply for international funding opportunities including the Horizon 2020 funding calls. Additionally, the programme enables Higher Education Institutes to purchase smaller infrastructure through a value-for-money incentive, including auctions and vendor negotiations.
Examples of projects that will be supported are:
A National High Performance Computing infrastructure that will significantly advance the data intensive computing and storage capabilities of Irish research activities in life-sciences, bioinformatics, material science, ICT, and engineering (ICHEC – NUIG).
An additive-manufacturing infrastructure that will facilitate the rapid prototyping and development of next generation miniature sensory and diagnostic technologies for use in areas such as energy harvesting, high potency drug delivery systems and smart packaging for food security (WIT).
An imaging and sensor pod for drones and light aircraft which will enable the development of decision support services for better management of our natural resources, transportation, energy and communication services, as well as for monitoring longer term climate-change impacts (Maynooth University).
A pre-clinical facility for assessing the safety and efficacy of advanced therapeutic medicinal products and next generation medical devices for the treatment of cardiovascular, musculoskeletal, ocular and nervous system diseases (TCD).
Commenting on the investment, Prof Mark Ferguson, Director General Science Foundation Ireland and Chief Scientific Adviser to the Government of Ireland explained; "Continuous investment and improvement of research infrastructure is vital to ensure Ireland remains at the forefront of scientific research and development. Providing researchers with access to the best tools and facilities contributes to the high standard of research which can be performed here.  Science Foundation Ireland is delighted to support Irish researchers by providing them with facilities and equipment which enable them to keep exploring the frontiers of STEM research, and to progress their discoveries towards practical implementation."
Collaboration is a key focus of the Infrastructure Programme. Over 40 companies will avail of the awarded infrastructure through collaborations with the research groups involved.  With an emphasis on solidifying connections with researchers in Northern Ireland, 12 projects have identified links to researchers in Northern Ireland, including those at Queens University Belfast and Ulster University.
Ten research bodies received funding as follows: University of Limerick (6 awards), Dublin City University (5 awards), University College Dublin (4 awards), Tyndall National Institute (UCC) (2 awards), Trinity College Dublin (4 awards), Maynooth University (3 awards), NUI Galway (5 awards), Waterford Institute of Technology (2 awards), Royal College of Surgeons of Ireland (2 awards), and Teagasc (2 awards).  29 awards were made for research infrastructure with a national priority (see summary details here) and a further 7 awards were made to research bodies for opportunistic funding.