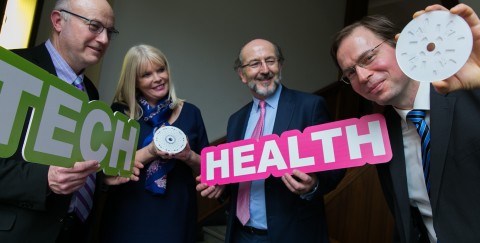 Ministers Mitchell O'Connor and Halligan announce €2.5 million SFI investment to bring "Lab-on-a-Chip" technologies to Ireland
Dublin, Ireland, 5 March 2017 – Minister for Jobs, Enterprise and Innovation, Mary Mitchell O'Connor TD, together with Minister for Training, Skills and Innovation John Halligan TD, today announced a joint initiative between Science Foundation Ireland and Fraunhofer-Gesellschaft to create a Fraunhofer Project Centre (FPC) for Embedded BioAnalytical Systems in Dublin City University (DCU), in partnership with the renowned Fraunhofer Institute for Production Technology IPT in Aachen, Germany.
Announcing the investment, Minister Mary Mitchell O'Connor said: "I am delighted to announce the first Fraunhofer Project Centre to be established in Ireland, which will have a strong focus on developing industry partnerships. By investing in this important initiative and world-class researchers, we are generating new knowledge ready for commercialisation, driving intellectual property development and creating a global competitive advantage for Ireland."
Commenting on the awards, Minister John Halligan, said: "Today's announcement of this investment and partnership with Fraunhofer-Gesellschaft, the leading organisation for applied research in Europe, demonstrates our commitment to supporting the best in emerging scientific talent in Ireland."
The Fraunhofer Project Centre, which is due to officially launch in May this year, will focus on contract and collaborative research, as well as technology development projects addressing cost-efficient design, development and manufacture of microfluidic "Lab-on-a-Chip" technologies. Funded by Science Foundation Ireland, with €2.5 million to be invested in DCU, an additional €2.5 million will be provided by Fraunhofer to support the partnership over a period of five years.
These systems will enable immediate "point-of-use" testing of samples such as blood or water for a wide range of applications, including personal healthcare, pharmaceutical production, life-science research, quality testing in agri-food and environmental monitoring.
Professor Mark Ferguson, Director General of Science Foundation Ireland and Chief Scientific Adviser to the Government of Ireland, said: "This significant decision represents a recognition by the prestigious Fraunhofer organisation of the high quality research base that has been created in Ireland. It will provide access for Irish academia and industry to the Fraunhofer network of institutes, as well as directly supporting twelve research positions.  The Fraunhofer Project Centre builds specifically on research and expertise in innovative diagnostics device research, which have been supported by a decade of funding of the DCU Biomedical Diagnostics Institute by Science Foundation Ireland. Science Foundation Ireland is delighted to partner with Fraunhofer to enable the next exciting phase of these innovative devices."
Professor Jens Ducrée, Director of the new FPC said: "This Fraunhofer Project Centre at Dublin City University is geared to provide modern Lab-on-a-Chip technologies for translating 21st century breakthroughs in medical research and the life sciences into reality for the direct benefit of people's health and lives."
Professor Fritz Klocke, Executive Director of the Fraunhofer IPT, said: "The Fraunhofer IPT has the expertise and excellent equipment for the production of microfluidic systems. The partnership with the colleagues in Dublin will create a significant added value for us because this synergy not only contributes to the extension of our design competencies, but also allows us to establish a centre with distinctly unique features."
For the Fraunhofer IPT, co-operation with the FPC at DCU will extend its international reach and provide access to DCU's highly recognised techno-scientific expertise, infrastructure and equipment, as well as its many academic and industrial collaborators within Irish-based life science activities and their close links with the UK and North America. Combined with the Fraunhofer IPT's capability for scale-up from prototyping to mass production, this approach will provide "fit-for-industry" solutions, which are vital in supporting innovation and driving national economic success.
Professor Brian MacCraith, President of DCU, welcomed the announcement saying: "This exciting partnership with the renowned Fraunhofer Institute will amplify the transformative impact of DCU's expertise in the application of microfluidics to the life sciences.  Impact and transformation, both societal and economic, are central to our research vision and the mutual benefits of this new collaboration will deliver impact that transcends geographical boundaries."