Minister Kyne Announces a World Leading Economic Geologist as SFI Research Professor at University College Dublin and as New Director of iCRAG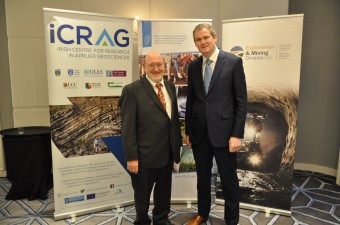 Pictured in Toronto, Canada are Professor Murray Hitzman and Seán Kyne TD, Minister of State for Community Development, Natural Resources and Digital Development (Source: iCRAG)
€4.7 million funding from Science Foundation Ireland will advance techniques and technologies in the search for new mineral deposits in Ireland, Africa and globally
Toronto, Canada and Dublin, Ireland, 6 March 2018, Minister of State for Community Development, Natural Resources and Digital Development, Seán Kyne TD has announced the appointment of Professor Murray Hitzman, a world leading economic geologist, as a Science Foundation Ireland (SFI) Research Professor at University College Dublin (UCD) and as the new Director of the Irish Centre for Research in Applied Geosciences (iCRAG), an SFI Research Centre co-funded by the European Regional Development Fund and industry partners.
Professor Hitzman, who was responsible for building and directing the largest economic geology research group in the United States at the long-established and highly respected Colorado School of Mines, has several decades of global experience. His key research achievements have centred on the development of new genetic models for both established and poorly understood classes of metallic mineral deposits.
Professor Hitzman, who is moving to Ireland following his position of Associate Director for Energy and Minerals at the US Geological Survey, has a proven record as an ore-finder and mine developer, primarily for copper, lead, zinc, gold, and rare earth minerals, across Europe, North & South America, Australia/Oceania and South America.
Professor Hitzman will lead a new €4.7 million research programme at the UCD School of Earth Sciences, supported by Science Foundation Ireland. The programme will employ 16 researchers over 5 years, and is focused on studying the geology, geochemistry and geophysical signature of mineral deposits in the Irish zinc-lead orefield and other mineral systems across Europe and Africa.
iCRAG's research focuses on the discovery, de-risking and sourcing of raw materials, water and energy resources that are critical to the global economy. As Director, Professor Hitzman will oversee the SFI Research Centre's programme across seven different institutions and 150 researchers to deliver scientific and economic impact for Ireland.
Making the announcements last night at the 2018 Prospectors and Developers Association of Canada (PDAC) international convention in Toronto, Minister Seán Kyne TD, said, "I am delighted by the appointment of Professor Murray Hitzman as Director of iCRAG. Professor Hitzman is one of the world's leading economic geologists with an exceptional track record of research and discovery of mineral deposits. His experience also includes the hydrocarbon sector. He will shape iCRAG's research programme, which will place Ireland at the forefront of geoscience research. This is an exciting development for iCRAG and demonstrates Ireland's ability to attract leading international geoscientists."
Professor Hitzman is one of the world's leading economic geologists with an exceptional track record of research and discovery of mineral deposits.
Professor Hitzman's research programme will complement, build upon and significantly extend the raw materials research of iCRAG, broadening and deepening Ireland's research on its zinc-lead orefield, and establishing, for the first time, major research initiatives on European and globally significant mineral systems.
Welcoming the appointment Professor Mark Ferguson, Director General of Science Foundation Ireland and Chief Scientific Adviser to the Government of Ireland said, "The appointment of Professor Hitzman represents a significant investment by Science Foundation Ireland in strengthening Ireland's research capabilities in mineral discovery and applied geoscience.  It will further enhance iCRAG's reputation as a global centre for geoscience research. Professor Hitzman has exceptional research credentials and I have no doubt that his track record in academia, industry and government scientific policy will be of significant benefit to iCRAG and the wider geoscience community in Ireland."
Speaking at the announcement, Professor Murray Hitzman, said, "I am delighted to join the UCD School of Earth Sciences. I hope to aid in continuing the tradition of collaborative research developed by the School's excellent staff over many years. Through iCRAG, I look forward to building on the excellent work carried out by Professor John Walsh and his team, and to help in driving forward applied geosciences as a key research area of national importance."
Professor Andrew J. Deeks, President, University College Dublin said, "I would like to take this opportunity to welcome Professor Murray Hitzman, who has relocated to UCD following on from an Associate Directorship role in the United States Geological Survey, and to congratulate him on his appointment as the new Director of iCRAG. With an exceptional international track record of research excellence in economic geology, and success in industry engagement, his appointment will position UCD and Ireland as an international leader in minerals research and his research programme, funded by Science Foundation Ireland, will support the development of a talented pool of skilled geology graduates. In addition Professor Hitzman, who has contributed greatly to policy formulation at US governmental level, will strive to improve public understanding of the critical role of minerals to support a sustainable society."
Through Professor Hitzman's research programme a new 4D model of the structural/stratigraphic architecture of the Carboniferous basin in Ireland will be developed. In addition, more detailed models of individual mineral deposits and prospects will be constructed utilising existing geological, geophysical and geochemical data, and new seismic datasets.
Head of the UCD School of Earth Sciences, Professor Frank McDermott said, "On behalf of our School I warmly welcome Professor Murray Hitzman to his new role as SFI Research Professor and as the incoming Director of iCRAG.  Murray's stellar career to date has included several key roles in academia, industry and government scientific policy formulation in the USA, Ireland and elsewhere. We are very fortunate to attract a scientific leader of Murray's calibre and international reputation to help drive our School's ambition in economic geology and related research areas, and to develop further the scientific research and industry collaboration activities across the breadth of iCRAG."
"Furthermore, I would like to take this opportunity to especially thank outgoing Director Professor John Walsh for his superb leadership of iCRAG since its establishment in 2015. John's ability to combine scientific research excellence with strong industry collaboration is a hallmark of iCRAG, and is an ethos that will continue to deliver impact under Professor Hitzman's leadership."