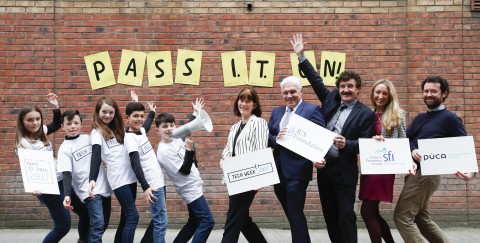 Minister Halligan launches Tech Week 2017
This year's Tech Week is happening on 22nd -28th April 2017 with a variety of nationwide events
30th March 2017 - The Minister of State for Training, Skills and Innovation, John Halligan TD, today launched Tech Week 2017, Ireland's national festival of technology aimed at students, parents and the public, which takes place all over Ireland this year from 22nd-28th April.
Organised by the ICS Foundation, the social enterprise arm of the Irish Computer Society, and sponsored by Science Foundation Ireland, this exciting week of events will see more than 100,000 students take part in a range of fun activities, including the finals of several Tech Week events.
Speaking at the launch of Tech Week 2017, Minister Halligan said: "The Department of Jobs, Enterprise and Innovation is delighted to support Tech Week through Science Foundation Ireland's Discover Programme. It is vital that we work to inspire and motivate our young people to develop an interest in technology, science and engineering, so that they are not just passive consumers, but feel empowered to become the inventors and pioneers of tomorrow. I would encourage everyone to take part in the many events happening nationwide, and to consider the valuable role of technology in our economy and society today."
Among the week's keynote events will be the national Scratch Coding final in Limerick, the Bebras Computational Thinking Challenge in Maynooth and 'Big Data in Dingle' which explores how analytics can help in rural development. Academic institutions and businesses will host events nationwide and hundreds of schools will take part across every county in Ireland.
Another key event is IT Professionals Day, aimed at celebrating the value and status of the IT Profession in Ireland and internationally. Supported by the European Commission, the lCS will be joined in this event by colleagues in Malta, Spain and Italy.
Dr. Ruth Freeman, Director of Strategy and Communications for Science Foundation Ireland said: "Science Foundation Ireland is delighted to support Tech Week again this year. It is about inspiring the next generation and giving young students the opportunity to discover STEM and coding first hand, and of course to have fun. These positive experiences can help to unleash creativity and encourage students to collaborate, communicate and solve problems together. Tech Week is about preparing future innovators and entrepreneurs for the jobs of tomorrow and showing them that careers in STEM can be exciting, varied and creative."
Jim Friars, CEO of the Irish Computer Society said: "The current generation of students are already digital natives and voracious consumers of technology, however it's also very important that this should extend into an appreciation of actual technology skills, as an underpinning enabler of life and living in Ireland today.
"Tech Week is a great example of ways in which we can build engagement and interest into relevant subjects such as science, technology, engineering and maths (STEM), with a wide selection of varied events happening all over the country during the week." 
"This isn't about technology awareness for its own sake. Instead, it's about creating future options and opportunities for all of our young people where it's essential that everyone understands these opportunities and the benefits of STEM related studies and can then make informed decisions on future career paths as a result."
Tech Week is supported by the SFI Discover programme.
You can learn all about Tech Week 2017 by visiting www.techweek.ie, facebook.com/techweekirl and following @TechWeekIRL on Twitter.