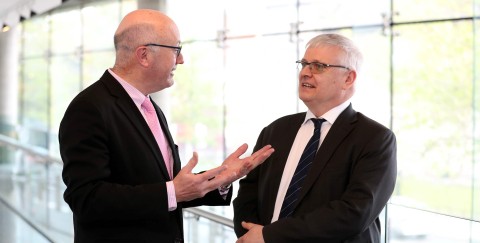 Minister Halligan announces new UK-Ireland partnership to encourage collaborative research
Science Foundation Ireland enters new partnership agreement with UK's Engineering and Physical Sciences Research Council (EPSRC)
Agreement will support joint research and technology development projects in the areas of engineering, ICT, mathematical sciences, physics, chemistry and materials science
Dublin, 25th April 2017 – Minister of State for Training, Skills and Innovation, John Halligan TD, today announced a new collaborative agreement between Science Foundation Ireland and the UK's Engineering and Physical Sciences Research Council (EPSRC), which aims to encourage joint research applications between the two countries.
EPSRC is the main UK government agency for funding research and training in engineering and the physical sciences, investing almost £900 million a year. This new transnational partnership with Ireland, will support joint research and technology development in all areas of EPSRC's remit, which covers chemistry, engineering, information and communications technologies, materials, mathematical sciences and physics.
Speaking of the agreement, Minister Halligan said: "I am delighted to announce this new research agreement between Science Foundation Ireland and the UK's Engineering and Physical Sciences Research Council (EPSRC). This partnership aligns well with our commitment to having one of the most highly skilled and innovative workforces in the world. This new funding partnership will provide an opportunity for our researchers to collaborate with their peers in the UK to address challenges and deliver important economic benefits for both countries."
Prof Philip Nelson, Chief Executive of the Engineering and Physical Sciences Research Council (EPSRC) said: "In order to maintain the UK's position as a global research leader, it is vital that we work with the world's best minds and organisations."
"EPSRC and the Research Councils have a long track record of success in international collaboration, and agreements such as this will allow us strengthen our ties with leading bodies such as Science Foundation Ireland, and improve our ability to deliver cutting-edge research."
Speaking of the announcement, Prof Mark Ferguson, Director General of Science Foundation Ireland and Chief Scientific Adviser to the Government of Ireland, said: "I very much welcome this important collaboration with EPSRC, which presents us with an excellent opportunity to promote closer linkages between our top-class researchers and their peers in the UK. Science Foundation Ireland supports world-class scientific research, with deep and significant enterprise engagement, excellence and impact. The opportunity to combine the expertise in Ireland with researchers supported in the UK by EPSRC will greatly enhance the impact of research performed in both jurisdictions."
Under the lead agency agreement, a single joint proposal from applicants in both countries is submitted to EPSRC. The application is processed according to the normal procedures of EPSRC Standard Grants. Successful UK-based research groups will be funded by EPSRC, while Republic of Ireland (ROI)-based research groups will be funded by Science Foundation Ireland. Joint applications to this programme will be accepted at any time. Interested parties are encouraged to visit the funding section of www.ScienceFoundationIreland.ie for full details.
This agreement builds on Science Foundation Ireland's established partnerships with other international funding agencies, such as the Biotechnology and Biological Sciences Research Council (BBSRC) partnership in areas such as bioscience for health, bioenergy, agriculture and biotechnology; the SFI-HRB-Wellcome Trust biomedical research partnership; the SFI-Royal Society Partnership and the US-Ireland R&D Partnership Programme.
A briefing session about the EPSRC-Science Foundation Ireland partnership programme took place in Dublin on 25th April 2017.