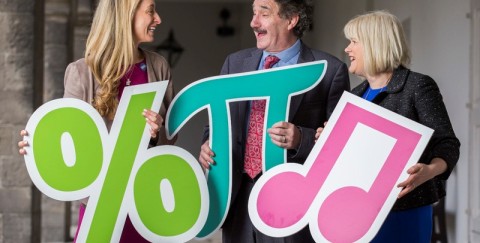 Minister Halligan Announces €2.8 Million Investment by Science Foundation Ireland in Public Engagement and Education Initiatives
16 February 2017 – The Minister of State for Training, Skills and Innovation, John Halligan TD, today announced a national investment of €2.8 million through the Science Foundation Ireland Discover Programme.  The funding will support 44 public engagement and education initiatives that will improve public understanding of science, technology, engineering, and maths (STEM) across Ireland, and engage a wide audience of people with STEM topics.
Speaking at the announcement Minister Halligan said: "The Department of Jobs, Enterprise and Innovation is delighted to support Science Foundation Ireland's important work to stimulate interest in science and engineering among the Irish public.  These 44 projects will play a role in fostering innovation, opening conversations about the role of STEM in society and inspiring our young people to explore careers in these areas.  I am also delighted to launch Science Foundation Ireland's new #BelieveInScience campaign which promotes the potential that science and discovery offer Ireland, today and in tomorrow's world."
This year's awards will see a number new projects supported including:
Eureka – The second series of the RTÉ 2 comedy panel show, hosted by Neil Delamere. The series features a mix of the country's brightest minds and sharpest comedians coming together to answer some of humanity's most pressing questions.
CALMAST – A mix of festivals and events celebrating STEM.  Run by the Waterford Institute of Technology, CALMAST will engage young people and the public throughout the South East;
SFI Science Zone at the Big Day Out – Supporting the St. Patrick's Festival to deliver a family science zone at the annual big day out.  Science will merge with street theatre, music workshops and carnival life;
Improving Gender Balance – A partnership between the Institute of Physics and Dublin City University this project will address changing attitudes towards physics in young people and in particular in young girls;
STEM in Sport - A programme encouraging young people in Limerick to engage more in science by exploring how science and technology is used in sport, led by Limerick Institute of Technology;
Fiosracht - A family-focused STEM engagement programme designed to foster curiosity and creativity outside of the classroom through a partnership between the Institute of Technology Tallaght, Foroige and South Dublin County Libraries;
A Hand in Space – A theatre project with Dr. Niamh Shaw, artist in residence at Blackrock Castle Observatory, Cork.  It will capture the story of the massive human effort behind space exploration in an entertaining, engaging way;
I Wish – A large-scale initiative promoting STEM options to young females, career guidance counsellors, teachers, parents. It aims to highlight STEM employers and female STEM role models.
Also, speaking at the event, Director of Strategy and Communications for Science Foundation Ireland, Dr Ruth Freeman, said: "The SFI Discover Programme is designed to catalyse and encourage novel initiatives which allow the Irish public to become informed about, inspired by and involved in STEM. Through these 44 awards and our new campaign #BelieveInScience, we will work in partnership with the Irish research community to share our passion for science with the public, to promote an understanding of the ability of science, technology, engineering and maths to create positive change in the world and to drive a sustainable economy in Ireland. These projects help us to engage with everyone, so that together we can explore the challenges we face, and develop solutions. We are looking forward to working with these exciting and creative education and engagement programmes, which will provide access to STEM to a wide diversity of people."
120 applications were received and the successful projects were selected through international peer-review. Science Foundation Ireland has invested in over 200 public engagement projects since 2013.  This year's awards are estimated to reach over two million people. Further details of the full list of successfully funded projects can be viewed here.