Live Weather, Job-stealing Robots, Mortality and Superbugs: Science Week on RTÉ set for a strong audience reaction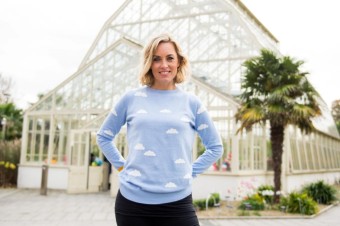 Introducing Weather Live, a brand new live three-day television event on RTÉ One, from the National Botanic Gardens, Glasnevin in front of a live audience
How does the weather affect our lives? Will robots steal our jobs? Is science making us healthier? What is going on in a new baby's brain? Just some of the questions that will feature on the biggest Science Week on RTÉ to date, with a diverse range of science and technology-themed content across television, radio, online and mobile from 13th - 19th November.
Science Week on RTÉ, presented with the support of Science Foundation Ireland, will span factual, news, weather and lifestyle programming. Standout elements include a three-day live television event (Weather Live), themed content across RTÉ Player, bespoke video clips featuring experiments with some well-known faces and voices, and a wealth of thought-provoking, longer form pieces written by science experts on rte.ie/brainstorm. All of this, and more, is available at your fingertips at www.rte.ie/scienceweek.
Colm O'Callaghan, Ceannasaí Cláracha Gaeilge, Education and Science, RTÉ, said, "RTÉ consistently places science-themed content at the very centre of its schedules and seeks to engage its audiences through informative, entertaining, thought-provoking and relevant programming. Science and technology plays an increasingly pivotal role in our everyday lives and it's important that we put that under the microscope and help our audiences explore and understand the world around us. I believe that the programme we have put together, with Science Foundation Ireland, BAI and other partners, for Science Week, 2017 will generate a strong reaction from our audiences".
 At a glance: Science Week on RTÉ
Weather Live is a brand new three-day television event on RTÉ One, which will come live from the National Botanic Gardens, Glasnevin, Dublin. This new, formatted show, presented before a live audience by Kathyrn Thomas and featuring Met Éireann's Evelyn Cusack, Gerald Fleming and Gerry Murphy, will bring fresh and engaging perspectives on one of Ireland's favourite obsessions - the weather.  Essential viewing for all the family.  (7-8pm, Wednesday 15th – Friday 17th November, RTE One).
The world of work is changing before our eyes. In Will a Robot Steal my Job?, Irish journalist Anne-Marie Tomchak, UK editor of Mashable, will explore advancements in robotics in a variety of sectors, taking in the global impact before questioning what this means for Irish workers, the Irish labour market and the country's education policies. (9.35pm, Monday 13th November, RTÉ One).
Feats of Modest Valour, is a short documentary that intimately observes three people with Parkinson's Disease, all longing for a remedy. Woven together with animation and observation, it offers an emotional insight into mortality and ground-breaking science. (10.35pm, Sunday, 12th November, RTÉ One).
RTÉ's YouTube channel will feature a series of specially commissioned short features along with daily online reports, including three from Weather Live and two from Dara O'Briain.
RTÉ Player will host a collection of documentaries, extras, highlights and young people's programmes, live and on-demand, including Creedon's Weather: Four Seasons in One Day and The Night Cork Nearly Drowned.  Watch out for exclusive clips and highlights from Weather Live.
RTÉ Archives will mark Science Week on RTÉ by digging out science-themed content from the past, including a series of weather-related clips.
In addition to featuring all of the highlights from Science Week 2017, RTÉ.ie will include specially-commissioned, science-themed articles from RTÉ Brainstorm – a unique partnership between RTÉ.ie and Irish third level institutions such as UCC, NUI Galway, DCU and Ulster University.  Thought-provoking long reads from the academic and research community will include, Will A Robot Take My Job?, What Is Going On In A Newborn Baby's Brain? and The Ethics of Gene Editing. 
Other Science Week on RTÉ highlights include:
Supported by EPA, HEA, Irish Research Council, RTÉ, SEAI and Teagasc, and presented by Aoibhinn Ní Shúilleabháin, Kathriona Devereux and Jonathan McCrea, 10 Things to Know About returns for Science Week on RTÉ. The popular series will tackle a range of engaging topics, such as: the alarming rise of superbugs; the race to recreate the awesome power of the sun; gene therapies that could provide the answer to some devastating conditions such as blindness; the secrets hidden under the earth's surface that threaten but also sustain our way of living; mind controlled technology; and lifesaving drones. (Starts Monday 13th November 2017, 8.30pm, RTE One);
RTÉjr will be science-mad across Science Week too, with Brainfreeze, a selection of 13 short pieces, being dropped into a range of programming, while series 1 and 2 of Wonder What will be make a welcome return to the RTÉjr schedule;
As official radio partner for Science Week on RTÉ, Today with Sean O'Rourke will bring regular science-focused items across the week, including weather-related features;
On Monday 13th November, Nationwide will be also talk tech and science, with the entire programme devoted to science-related stories.
RTÉ's Science & Technology Correspondent, Will Goodbody will be bringing you themed reports across television, radio, online and mobile, while News2Day will also focus on science and technology-themed reports throughout the week;
Finally, sticking with the weather theme, make sure to look out for the current RTÉ Guide (11 – 17 November), which will include a special family-focused pullout poster all about the weather – perfect for primary-school kids. 
So, keep up with all the action from Science Week on RTÉ on rte.ie/scienceweek and across @rte on Twitter, Facebook and YouTube, using #rtescienceweek.