Lero researchers at NUI Galway and Valeo announce partnership on autonomous vehicles development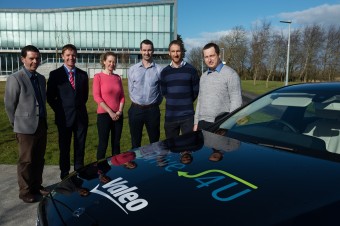 Pictured at the signing of an agreement on autonomous vehicles research between Lero researchers at NUI Galway and Valeo were from left: Dr Martin Glavin, Dr Edward Jones, (both Lero researchers at NUI Galway), Catherine Enright (Vision Fusion Software Team Manager, Valeo), Jonathan Horgan (Computer Vision Algorithms Manager, Valeo), John McDonald (Advanced Engineering Systems Architect, Valeo) and Dr Ciarán Hughes (Senior Expert in Computer Vision, Valeo). Photo Andrew Downes
Signal processing technology to help vehicles see and adapt better to complex environments

NUI Galway campus to serve as testbed
Galway; 9.00am, Wednesday, 28th February, 2018:  Researchers from the Lero SFI Research Centre at NUI Galway have signed an autonomous vehicles R&D partnership with Valeo, the major automotive supplier headquartered in Paris, France. Funding for the programme comes from Science Foundation Ireland (SFI) and Valeo.
The research will focus on helping autonomous vehicles to better navigate in complex, real world conditions using sensor signal processing technology.
A team of up to 30 Lero NUI Galway and Valeo engineers based in Tuam, Ireland, will work on the project. In support of the programme, Lero NUI Galway is hiring ten PhD and two post-doctoral researchers. Valeo, which employs 1,100 people in Tuam, operates the largest R&D team in the West of Ireland with over 400 engineers.
The project team at Lero, the Irish Software Research Centre, supported by Science Foundation Ireland, will be headed by Dr Martin Glavin and Dr Edward Jones of the College of Engineering & Informatics at NUI Galway. Dr Ciarán Hughes, Senior Expert in Computer Vision, leads the Valeo research team.
"In many ways perception of the current state of autonomous vehicle technology is more advanced than reality," commented Dr Jones. "While autonomous vehicles are currently operating successfully in several locations, particularly in the US, this is often under road landscape and weather conditions very different to the more complex city and rural environments that would commonly be found in locations such as Ireland or elsewhere in Europe."
"Working with the Valeo R&D team our research aims to develop sensor technology that can see further and adapt to difficult driving conditions such as fog, heavy rain and darkness," added Dr Glavin. "It will also be designed to better deal with real life road situations such as cyclists, pedestrians or animals wandering on to the road."
Dr Ciarán Hughes, Senior Expert, Valeo added, "This collaboration brings an 18-year relationship with NUI Galway to a new level, a step that wouldn't have been possible without the support of Lero. At a broad level, the project will look at how to extract the most information possible from automotive sensors, which is critical for highly complex autonomous driving systems."
Speaking about the partnership, Prof Mark Ferguson, Director General of Science Foundation Ireland and Chief Scientific Adviser to the Government of Ireland, said, "It is a tribute to researchers in Ireland that Valeo has chosen to work with Lero, the SFI Research Centre for Software Research, and establish this R&D partnership here. SFI Research Centres such as Lero continue to make important scientific advances which support enterprise and industry, develop critical skills, support regional development and enhance Ireland's international reputation. We look forward to seeing the results of the partnership and the sharing of knowledge and expertise it will facilitate."
As part of the research programme a semi-autonomous car will be equipped to navigate every day hazards on the NUI Galway campus, although the test vehicle will be under human control at all times. Critical use cases will be examined at Valeo's secured test facility in Tuam.
Joe Gibbs, business development manager at Lero, the SFI-funded Irish Software Research Centre, added, "This is an exciting project at the cutting edge of advanced autonomous vehicle technology. It is significant that this research is taking place in Ireland."