Lero researchers at IT Tralee win €400,000 contract to apply technology to a healthcare setting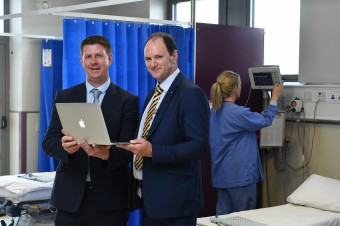 Aim is to ensure efficient use of resources to deliver a remarkable patient experience
Lero expansion as IT Tralee becomes the ninth member of the Irish national software research centre
"Clever use of technology can ensure the efficient use of resources across the Irish health system without major capital spending"
Tralee; Friday, 20th October, 2017: The Institute of Tralee (IT Tralee), which has been named as the latest member of Lero, the Irish Software Research Centre, has announced a new €400,000 research programme.
The programme is one of a number of initiatives marking a collaboration between IT Tralee and Bon Secours Hospital Tralee (BSHT) to develop new activities in teaching, research and education. Today also saw the signing of a formal agreement between IT Tralee and Bon Secours Hospital Tralee to mark this enhanced partnership arrangement.
Dr. Oliver Murphy, President of the IT Tralee at the signing ceremony said, "The IT Tralee and the Bons Secours Hospital Group have an established educational partnership spanning a number of years. The signing of today's agreement marks the extension of this partnership beyond education into the area of research and we look forward to the impacts this collaboration will have not just on our respective organisations but on the region in general.
The Lero projects which will run under the programme are designed to optimise patient care at the Tralee Hospital by ensuring the efficient use of resources.  
The three-year programme will analyse current procedures for bed management and theatre scheduling and pilot the application of intelligent systems to improve relevant patient pathways. The research is supported by Science Foundation Ireland.
"Efficient resource management, particularly bed management, is a critical issue right across the Irish health sector," commented Dr. Joseph Walsh, Lero principal investigator at IT Tralee. "Clever use of technology such as the implementation of systems of this type can result in the efficient use of beds across the health system without major capital spending. Bon Secours aims to use the benefits of this research across its other four hospitals in Ireland."
"Patient satisfaction is of paramount importance to us," added TJ O'Connor, Hospital Manager, Bon Secours Hospital Tralee. "We are looking at our processes from the patient's point of view and working to remove steps in the delivery of our service that the patient would not find valuable." He added, "This programme will benefit our hospital and staff as well as our patients by releasing staff time for care."
Clinical Director of Bon Secours Hospital Tralee, Dr. Helena Moore, commented, "This research programme will help us to sustain excellence in patient care, as well as confidence in a timely, efficient service for our referring GPs."
Professor Ita Richardson, co-principal Investigator of Lero, the Irish Software Research Centre added, "The programme will help achieve earlier patient admission and ensure multi-disciplinary access to information on bed and surgical resource availability as well as discharge status of a patient." 
The Bon Secours Health System is the largest private healthcare provider in Ireland, comprising five hospitals in Tralee, Cork, Dublin, Galway and Limerick and a Care Village in Cork.  As Ireland's largest independent hospital group, Bon Secours Health System is renowned for the quality of its service provision coupled with a rich tradition in healthcare.
Bon Secours Health System is a not‑for‑profit organisation with a mission centred on providing compassionate, world-class medical treatment to all those it serves. With over 3,000 staff, 876 beds and 410 leading consultants, Bon Secours treats in excess of 280,000 patients per year and will invest over €150 million over the next five years in expanding its current services.  
IT Tralee is the ninth third level institution to join Lero, the Irish Software Research Centre, which is recognised as a global leader in software research.  IT Tralee joins Lero software research experts from Dublin City University, Dundalk Institute of Technology, NUI Galway, Maynooth University, Trinity College Dublin, University College Cork, University College Dublin and University of Limerick. 
Lero (www.lero.ie), which is the only centre which combines researchers from all Republic of Ireland universities, is funded by Science Foundation Ireland as well as by contracts from Irish and international technology corporations.