Lero named as winner of prestigious global award
International body recognises SFI research centre industry collaboration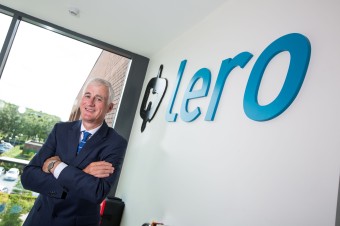 Professor Brian Fitzgerald, director of Lero, the Irish Software Research Centre. Picture Sean Curtin,True Media
Limerick, Tuesday, 17th April, 2018: Lero, the SFI Irish Software Research Centre, has been named as winner of the 2018 award for industry collaboration by the global IEEE Computer Society.
This is the first time the IEEE Computer Society Technical Council on Software Engineering (TCSE) Distinguished Synergy Award has come to Ireland. Previous winners include IBM Center for Advanced Studies, Canada; Microsoft, USA and Fraunhofer Institute for Experimental Software Engineering, Germany.
The award will be presented at the 40th International Conference on Software Engineering in Gothenburg, Sweden at the end of May. Lero was nominated by the Irish Computer Society.
"This is an honour and tribute to our team and the collaborative software research being conducted in Ireland between academia and industry," commented Professor Brian Fitzgerald, director, Lero. "This includes cutting edge software research by Irish third level institutions and our industry partners across a range of critical sectors from smart cities and driverless cars to cybersecurity and Internet of Things."
 "After considering a strong field of nominees from across the globe, it was Lero's outstanding collaborative research spanning universities and industry that really impressed the judges," commented Ladan Tahvildari, chairman, 2018 TCSE Awards.
 "Lero's strong track record of research commercialisation and technology transfer including 39 patents, 26 invention disclosures, eight commercial licences, and two spin-offs (Logentries and Nova Leah) clearly warranted this award.
 "In addition, Lero's unique new Professional Doctoral Engineering (PDEng) program and its on-boarding workshops available freely to industry emphasises its commitment to industry support."
Congratulating Lero on the award, Professor Mark Ferguson, Director General of Science Foundation Ireland and Chief Scientific Adviser to the Government of Ireland, added, "This is welcome international recognition of the important role of our SFI Research Centres in collaborating with and supporting the development and competitiveness of industry, enterprise and employment in Ireland through leading edge research."
The IEEE Computer Society is the world's leading membership organisation dedicated to computer science and technology. Serving more than 60,000 members worldwide, it represents technology leaders including researchers, educators, software engineers, IT professionals, employers and students.
Established in 2005 by Science Foundation Ireland, Lero has access to a team of almost 300 software researchers including over 100 PhD students from Dublin City University, Dundalk Institute of Technology, IT Tralee, NUI Galway, Maynooth University, Trinity College Dublin, University College Cork, University College Dublin and University of Limerick. It is funded by Science Foundation Ireland as well as by contracts from Irish and international technology corporations.