DCU teams up with Met Éireann to launch Irish Sign Language Environmental and Geography Glossary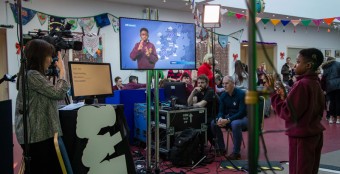 Wednesday December 4th: Dublin City University teamed up with Met Éireann Meteorologist Gerry Murphy to launch the Irish Sign Language Environmental and Geography Glossary this morning at the Deaf Village Ireland, Cabra. RTÉ weather presenter Gerry joined with Dr Elizabeth Mathews, DCU's School of Inclusive and Special Education and pupils and teachers from the Holy Family School for the Deaf to demonstrate the glossary in action.
The ISL glossary, funded by Science Foundation Ireland, aims to create an extensive glossary of terms spanning a range of school subjects. This is the second phase of the project and follows on from the first phase, Maths, launched in February.
There are approximately 5,000 people in Ireland who use Irish Sign Language (ISL) as their first language (Central Statistics Office, 2017). However, for people who are deaf or hard of hearing (DHH) to fully engage in subjects conversations about science, such as climate change and extreme weather events, there must be an agreed lexicon in Irish Language for these terms- resources, which up until now, have been lacking.
Today's announcement by Dr Elizabeth Mathews from DCU's School of Inclusive and Special Education marks another step in the process of developing a comprehensive ISL glossary to support education for DHH learners at primary and post-primary school, their parents and their teachers.
Dr Elizabeth Mathews said: "We created this glossary so that teachers, interpreters, parents and young Deaf people all over Ireland can access the vocabulary they need in Irish Sign Language to have conversations about science.  Before this, teachers often encountered words they did not have a sign for and would resort to making something up.  This meant that there could be several different signs for the same concept used across, and even within, schools.  This slowed down the learning process and made it difficult for students when they moved from school to university".
The glossary is available online at www.dcu.ie/islstem