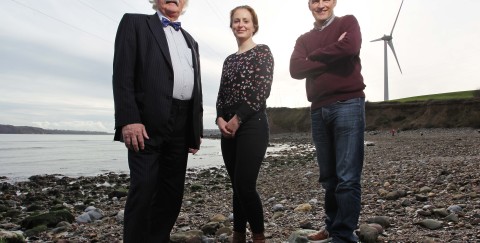 IRELAND TO LEAD EU MARINE RENEWABLE ENERGY PROJECT – MaRINET2
UCC TO CO-ORDINATE €10.5M EU PROJECT ACCELERATING THE DEVELOPMENT OF MARINE RENEWABLE ENERGY TECHNOLOGIES  
Dublin, 2 February 2017: An investment of €10.5 million in EU funding was announced today (Thursday) in Dublin by University College Cork. It is the second phase of funding in the transnational, multi-million euro initiative, called MaRINET2, which aims to help industry accelerate the development of offshore renewable energy technologies and infrastructure by opening up access to 57 test facilities across 13 European countries. The project is co-ordinated by MaREI, the Centre for Marine and Renewable Energy, at University College Cork.
MaRINET2, the Marine Renewables Infrastructure Network, is a network of 39 partners, involving research centres and organisations who work together to progress offshore renewable energy technologies such as wave, tidal and offshore-wind. This pan-European network will provide marine energy development companies, entrepreneurs, start-ups and researchers with fully-funded access to marine energy experts and the world's leading wave, tidal and offshore-wind test facilities.
Speaking at the launch of MaRINET2 in Dublin, Dr. Jimmy Murphy, Co-ordinator of MaRINET2 said, "MaRINET is a model for success and demonstrates what we can achieve in terms of collaboration and sharing knowledge transnationally. It will reduce the risk and financial burden of technology development in the offshore renewable energy sector and complement the existing national funding for these developers to test in Ireland e.g. at the Lir National Ocean Test Facilities, funded by SEAI and Science Foundation Ireland."
The Sustainable Energy Authority of Ireland (SEAI), working with key partners, leads the development of the emerging ocean energy sector in Ireland. SEAI is providing funding to novel technologies from prototypes to full scale devices, and is developing test facilities, the supply chain and infrastructure required to progress the industry.
Opening the launch of MaRINET2, Jim Gannon, CEO of SEAI said, "Ireland is truly leading internationally in the ocean energy sector and the announcement of the Irish-led MaRINET2 is testimony to that. SEAI is supporting the development of excellent test facilities in Ireland and we now have the opportunity to invite international ocean energy developers to our shores to reinforce our position in the global marine renewable sector."
MaRINET2 promotes standardisation of testing across these 39 European partners allowing all testing in these facilities and others, to be repeatable and standardised. This structured approach has gained international recognition and praise across this emerging sector.
"By offering European-wide access to marine energy testing we ensure that the best facilities and expertise in the world are being made available to more people, and that developers are saving several thousands of euro during critical development phases of their technology," added Dr. Murphy.  
Irish Partners for MARINET2 include SmartBay Ireland, National University of Ireland, Galway and the University of Limerick.
Commenting on the investment, Dr Darrin Morrissey, Director of Programmes in Science Foundation Ireland said; "The SFI Research Centres are world class facilities leading the way in key research areas of global importance. MaREI leading of this international collaboration exemplifies Science Foundation Ireland's commitment to supporting excellent and impactful research. Providing researchers with access to top infrastructure and expertise will enable a more rapid pace of innovation and development of marine energy technologies."
Professor Tony Lewis, who led the first MaRINET programme and was strongly supported by the French, will continue to be a driving force in MaRINET2. In recognition of his invaluable contribution to the offshore renewable energy sector across Europe, Mr. Jean-Pierre Thébault, Ambassador of France to Ireland will present Professor Lewis with the grand honour of Chevalier des Palmes Académiques today.
Speaking at the ceremony today, Prof. Lewis said; "I am hugely honoured to accept the award of Chevalier des Palmes Académiques from Msr. Jean-Pierre Thébault, the French Ambassador to Ireland. I have a longstanding positive relationship, with many French Universities through exchange of students as well as joint European funded research projects such as MaRINET2."