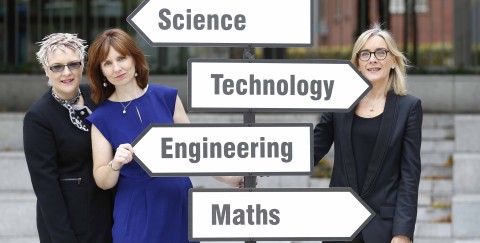 I WISH 2017 – A SELL OUT SUCCESS
MORE THAN 4,000 TEENAGE GIRLS BOOKED TO ATTEND STEM (SCIENCE, TECHNOLOGY, ENGINEERING & MATHS) EVENTS IN CORK AND DUBLIN
Cork, 08 January 2017: I WISH 2017 is a sell-out success with more than 4,000 transition year girls booked to attend the hugely successful partnership initiative encouraging young women to pursue a career in STEM (science, technology, engineering and maths). The initiative, which is supported by Science Foundation Ireland, branched out nationwide this year with events in Cork City Hall on 9 and 10 February 2017, and in the RDS Dublin on 13 and 14 February 2017.
The I WISH showcase events comprise of both a conference and exhibition. Students will meet and engage directly with inspiring women working in a variety of STEM role, experiencing first-hand the incredible work of industry leaders such as Dell EMC, Arup, PepsiCo and many more. The I WISH 2017 speaker line-up includes award-winning game designer Brenda Romero; Nuritas Founder and CSO, Dr. Nora Khaldi; scientist and entrepreneur Ciara Judge; Assistant Professor in Physics at Trinity College Dublin, Arlene O'Neill; film producer and chairman of Atticus Education, David Puttnam; Director of Strategy and Communications of Science Foundation Ireland, Dr Ruth Freeman and Vice President and General Manager of Dell EMC Ireland, Aisling Keegan.
"We are absolutely thrilled to announce that I WISH 2017 is completely sold out in both Cork and Dublin – this shows the appetite and enthusiasm for STEM events such as I WISH among teachers and students nationwide. In response to the surge in demand for places this year, we have opened a waiting list for schools and hope to accommodate as many as we possibly can. There are also a number of slots still available in Dublin for companies wishing to exhibit at the event," said Gillian Keating, Co-founder I WISH.
I WISH is an initiative that combines the best of industry, academia and the public sector in order to inspire and encourage young women to pursue careers in STEM. Set up in 2014 by 3 Cork businesswomen, Gillian Keating, Partner at Ronan Daly Jermyn, Ruth Buckley, Head of ICT & Business Services at Cork City Council and Caroline O'Driscoll, Partner at KPMG. This year –thanks to the support of local authorities in Cork and Dublin, and many more sponsors – the  award-winning I WISH showcase expanded nationally to ensure that as many girls as possible experience the power of STEM first hand.
"What is exciting about I WISH is that students will have the opportunity to hear from female leaders with high ranking STEM roles in multinational organisations such as Johnson & Johnson, Accenture, Stryker, Google and Twitter. There will also be young female entrepreneurs from a variety of STEM backgrounds talking about their careers, as well as young women with careers in traditionally male-dominated areas such as engineering and maths. All of our speakers are influencers in their chosen fields, I WISH gives young women the opportunity to meet and listen to these influential women often prompting them to consider – sometimes for the first time – the variety of roles that a science and technology related career can offer," added Gillian Keating.
Dr Ruth Freeman, Director of Strategy and Communications at Science Foundation Ireland commented: "A science related career is an exciting and rewarding path. Science can change the way we live, work and learn. Science Foundation Ireland is supporting the I WISH initiative as we recognise the importance of harnessing the power of the next generation of girls, and connecting students with women working in science. By providing these vital role models, we are encouraging and inspiring more students to explore their own STEM career. I WISH aligns with Science Foundation Ireland's Smart Futures programme which provides secondary school students in Ireland with access to information on STEM careers. That both I WISH events are now sold out demonstrates an enthusiasm among our teens to become the innovators of tomorrow."
I WISH is an award-winning initiative supported by Science Foundation Ireland, in partnership with Cork City Council, Cork Chamber, it@cork, Cork County Council, Dublin City Council, Dún Laoghaire-Rathdown County Council, UCC, CIT, American Chamber of Commerce Ireland, Trinity College Dublin, Dell EMC and many more.
General Manager at Dell EMC Ireland, Aisling Keegan, said: "Dell EMC is committed to highlighting and supporting gender diversity in the workplace – specifically in the technology sector. While we have a number of initiatives up and running which are having an impact it is clear that there is more to be done in order to address this problem. We believe that I Wish has taken a fresh approach to addressing this challenge. Facilitating industry leaders, together with local government and higher education institutes and colleges, to have direct engagement with young women who are just about to make some critical choices about subjects and careers. This will have a real and meaningful impact on the decisions they make. We are delighted to sponsor these events and are looking forward to the events taking place now in February."
I Wish takes place in Cork City Hall on Thursday 9 and Friday 10 February and in the RDS Dublin on Monday 13 and Tuesday 14 February 2017. The events are free to attend and promise to benefit young women with hands-on practical information, talks and demonstrations by women in STEM roles. The events are now fully booked in both Cork and Dublin, however there are some slots available in Dublin for companies wishing to exhibit. A full line-up of speakers and exhibitors is available online, www.iwish.ie.