Exploring opportunities with the National Challenge Fund
With four Challenges currently open in the National Challenge Fund, members of the research community have been hearing from Government departments about the kind of problems for which Ireland most needs solutions.
The National Challenge Fund is a series of challenge-based funding opportunities, where teams of researchers must work towards solutions in the areas of digitalisation and the green transition. The Challenges are funded under the National Recovery and Resilience Plan, helping Ireland to restore its society and economy following the adversity of the COVID-19 pandemic.
"As a society we face significant challenges, especially the green and digital transitions, and we need to find technical solutions which are equitable, inclusive and effective," said Science Foundation Ireland Director General Philip Nolan. "This type of funding is creating a step change in how we address these challenges, and in addition to new solutions emerging from the research itself, we see deeper and longer-term effects on research practices and how we do research, and new and long-lasting relationships and research partnerships."
The assembled researchers heard from a number of government departments about the specific impacts new ideas might be able to have. The National Challenge Fund requires researchers to work with people directly affected by the problem they are seeking to solve. This 'Societal Impact Champion' helps to define the issue during their interactions with the team and demonstrate how their solution could benefit everyday life for its users. Multiple Government departments attended,  keen to engage with research teams and discuss ideas connected with department objectives and long-term strategic goals. Researchers who were not able to attend can ask for further details via the Challenges team.
"It is our goal to become a climate neutral, sustainable and digitally connected Ireland," said Gerry Clabby from the Department of the Environment, Climate and Communications. "We have many challenges in achieving this goal  - we need evidence and data to underpin policy together with innovation to develop solution and drive action." He explained that the European Green Deal was also at the heart of Ireland's policy response.
Karl Walsh from the Department of Agriculture, Food and the Marine explained how that department is also working on questions of sustainability: "The overarching challenge for our sector is around a productive, sustainable and resilient food system. The most pressing grand challenges in our sector largely predominate in environmental sustainability."
Philip McGrath from the Department of Public Expenditure and Reform explained how innovative thinking might help with the long-term goals of sound management of public spending and modernisation of public services. He said that the future public service must be "digital by default".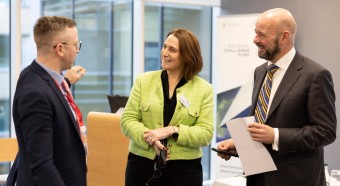 Philip McGrath with SFI's Dr Lisa Higgins and Prof. Philip Nolan
Philip Mudge from the Department of Defence has already supported challenge-based funding for specific issues experienced by the Defence Organisation. The prize winners will be announced in January but he can already see the benefits:  "The combination of academic rigour, research management and problem solving has been fascinating and valuable."
Researchers had the opportunity to explore topics of interest and refine their proposal ideas, while also scouting for possible Societal Impact Champions. If you or your organisation would like to contribute to a research project, you are invited to check the National Challenge Fund pages for more information and contact the team.
The National Challenge Fund was established under the Government's National Recovery and Resilience Plan (NRRP), funded by the EU's Recovery and Resilience Facility. The fund is coordinated and administered by Science Foundation Ireland.
Researchers have until 10th February 2023 to submit ideas for the current calls. Two more calls will open next year.