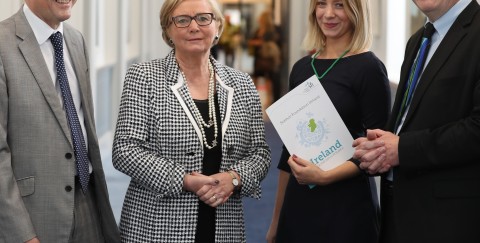 European innovation study presentation event opened by Tánaiste Frances Fitzgerald
Friday 23rd June- Prof Luke Georgiou, Vice President for Research and Innovation at the University of Manchester, presented the results of a large-scale study of innovation in Europe at a briefing held in the Department of Taoiseach, Dublin, on Friday 23rd June.
Prof Georgiou has recently undertaken a European-wide study to explore how innovation processes are changing in a fundamental way. The study includes in-depth interviews with over 700 firms across Europe, including 44 firms in Ireland. 
Prof Georghiou is a global leader in innovation policy research and one of the authors of the recent EU Commission paper "The Economic Rationale for Public R&I Funding and its Impact" (January 2017).
The event was opened by the Tánaiste and Minister for Jobs, Enterprise and Innovation, Frances Fitzgerald TD, and Professor Mark Ferguson, Director General, Science Foundation Ireland, and Chief Scientific Adviser to the Government of Ireland.