Minister John Halligan announces research investment of €43 million through SFI Investigators Programme
Science Foundation Ireland investment will support 26 research projects in key areas including mathematical modelling, nanoscience, inflammatory diseases, cancer, materials, cattle breeding, seismology, communications and climate change.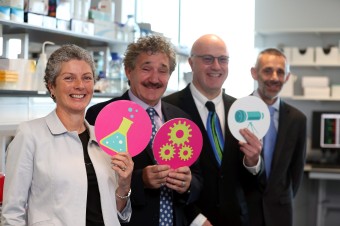 September 2017 – Minister for Training, Skills, Innovation, Research and Development, John Halligan TD today announced an investment of €43 million in 26 research projects through the SFI Investigators Programme. The 26 research projects will support 94 research positions over the next five years.
Minister Halligan said, "This funding recognises some of Ireland's top researchers and enables them to advance vital research areas in Ireland including health, technology, agriculture and energy.  I am confident that the teams being supported will generate important new scientific breakthroughs.  In addition, today's investment provides 20 companies with access to invaluable expertise and infrastructure across the country. These collaborations between industry and academia are integral to further enhancing Ireland's reputation for research excellence."
Projects that will be supported by the SFI Investigators Programme include research that will:
Control the electrical properties of materials and their performance in devices
Elucidate the causes of inflammatory diseases, and develop treatments
Develop personalised treatment approaches for cancer
Find ways to spread important information more quickly on social media (e.g., for health or terrorism alerts), and to control undesirable aspects (e.g., spreading of misinformation)
Develop new types of antibiotics
Create novel magnetic materials for next generation data processing
Develop theoretical and computational tools to mitigate risk and optimise business processes in the financial industry
Generate insect-resistant Brassica crops
Design, discover and develop a new generation of advanced materials, sorbents, for low-cost, energy-efficient carbon capture and natural gas storage
To strengthen and accelerate research in key strategic areas of national interest, Science Foundation Ireland collaborates with several funding agencies and public bodies through the SFI Investigator Programme. Six of the research projects received co-funding worth a total of €3 million from Teagasc, Geological Survey Ireland (GSI), the Marine Institute (MI), and the Environmental Protection Agency (EPA).
Along with the 26 research projects that will be funded, the international peer review panel recommended a further 33 scientifically excellent projects for funding. These projects are on a reserve list to be supported if budgets permit later in the year.
Professor Mark Ferguson, Director General of Science Foundation Ireland and Chief Scientific Adviser to the Government of Ireland added, "The Science Foundation Ireland Investigators Programme funds outstanding individuals performing excellent, impactful research. The standard of applications for the SFI Investigators Programme was exceptionally high.  The quality and quantity of excellent projects on the reserve list is clear evidence of the increasingly high standard of research in Ireland.  I have the highest expectations for the projects funded today, and look forward to seeing the benefits to Ireland's society and economy."
Under the Science Foundation Ireland Investigators Programme, 26 research projects will be funded through ten research bodies, as follows: Dublin City University (2), Dublin Institute for Advanced Studies (1), National University of Ireland Galway (2), National University of Ireland Maynooth (2), Trinity College Dublin (9), University College Cork (3), University College Dublin (3), University of Limerick (2), Teagasc (1) and Royal College of Surgeons Ireland (1).  A full list of the projects is attached.