Science Foundation Ireland 2019 Science Awards recognise key leaders in the Irish Research Community
Athlone, 7th November 2019: The winners of the prestigious 2019 Science Foundation Ireland (SFI) Awards were revealed today at the annual SFI Science Summit. Over 300 leading members of Ireland's research community came together to celebrate the significant contributions made over the past year to Science, Technology, Engineering and Maths (STEM) in Ireland. This year a new award for Mentorship was introduced to celebrate the important role mentors play in providing guidance, motivation and emotional support in our research system.
Acknowledging the award winners, Minister for Training, Skills, Innovation and Research and Development, John Halligan TD, said: "The Science Foundation Ireland Awards recognise the breadth and depth that research encompasses from industry collaborations to public engagement and the innovative breakthroughs that are leading research globally in the areas of Immunology, Biomaterials, Cancer research and much more. I would like to congratulate each awardee on their achievements, which illustrate the invaluable knowledge and resource that Ireland's research community offers. I am also pleased to see mentorship amongst the awards this year, highlighting the importance of supporting the next generation of researchers and enriching our growing research community."
Professor Mark Ferguson, Director General of Science Foundation Ireland and Chief Scientific Adviser to the Government of Ireland, also congratulated the award winners, saying: "On behalf of Science Foundation Ireland, I would like to congratulate the award winners on their success and recognise their dedication in realising their ambitions and in doing so, building Ireland's reputation as a global research leader. We are very proud of the excellent quality of research that our funding enables, and the SFI Awards are an important acknowledgement of the collective achievements of the Irish research community, which continue to be impactful, inspirational and world-leading."
This year there are eight categories in total, with ten award winners as follows:
SFI Researcher of the Year 2019
The SFI Researcher of the Year Award recognises the accomplishments of an SFI funded researcher who has contributed significantly to the Irish research community in the year of the award and/or throughout their career. The successful researcher has achieved exceptional scientific and engineering research outputs combined with a clear demonstration of the ability to communicate their research.
Recipient: Professor Kevin O'Connor, Director of the BEACON SFI Bioeconomy Research Centre, University College Dublin
Commenting on receiving the Award Professor Kevin O'Connor stated: "I am delighted and honoured to receive this prestigious SFI award. It is a recognition of the dedication of the many researchers and industry partners with whom I work and collaborate with, across multiple scientific fields and sectors, at UCD, across Ireland and internationally. Through these collaborations we are creating knowledge and translating this knowledge into innovative technological solutions to address global and societal bioeconomy challenges. I would especially like to acknowledge and thank SFI for their funding, and UCD, BEACON centre members and my wife and family for all their support."
SFI Early Career Researcher of the Year
The SFI Early Career Researcher Award recognises outstanding early career research talent and in recognition of the high calibre of nominations in 2019, there are two individual recipients of the Early Career Researcher of the Year Award:
Recipient: Associate Professor Lydia Lynch, Trinity College Dublin
Recipient: Dr Orla O'Sullivan, APC Microbiome Ireland SFI Research Centre and Vistamilk SFI Research Centre, Teagasc
SFI Industry Partnership Award 
The SFI Industry Partnership Award celebrates a collaboration between an SFI-funded academic research group and industry.
Recipient: Professor Danny Kelly, AMBER SFI Research Centre for Advanced Materials and BioEngineering Research, Trinity College Dublin, for collaboration with Johnson & Johnson Services, Inc.
SFI Best International Engagement Award
This award recognises the accomplishments of a Science Foundation Ireland-funded researcher/group specifically in the context of their international activities.
Recipient: Professor Abhay Pandit, Scientific Director, CÚRAM SFI Research Centre for Medical Devices, NUI Galway
SFI Entrepreneurship Award
The SFI Entrepreneurship Award celebrates an entrepreneurial achievement by SFI supported researchers.
Recipient: Professor William Gallagher, University College Dublin
SFI Outstanding Contribution to STEM Communication
This award recognises an outstanding contribution to the popularisation of science and recognises an individual who raises public awareness of the value of science to human progress. This year as the calibre of nominations was so high there are two individual awardees in this category. 
Recipient: Associate Professor Eilish McLoughlin, Dublin City University
Recipient: Dr Muriel Grenon, NUI Galway
SFI Mentorship Award
This inaugural award recognises outstanding mentorship provided by a researcher funded by Science Foundation Ireland.
Recipient: Dr Fatima Gunning, IPIC SFI Research Centre and Tyndall National Institute
SFI Research Image of the Year
The Research Image competition celebrates images captured by Science Foundation Ireland funded researchers during the course of their research.
Recipient:  Dr Han Shao, Postdoctoral Researcher, Tyndall National Institute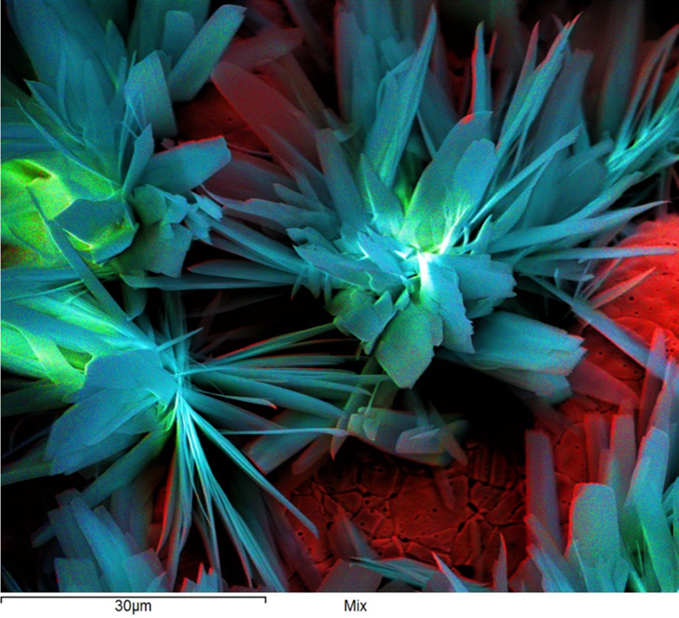 Image title: Synthesised Nanoflowers
This nickel foam supported cobalt phosphate nanoflake structure was synthesised via a simple hydrothermal method. The EDX image (without further doctoring) shows the distribution of different elements (red-Ni, purple-Co, blue-O, green-P) of cobalt phosphate microstructure. The nanoflake grew outward in different directions, forming a flower-like microstructure, which helps to enhance energy storage performance. With superior storage capacity and long life, the cobalt phosphate-based device can be employed in next-generation artificial cardiac pacemakers as a rechargeable energy source that will last for more than 15 years.