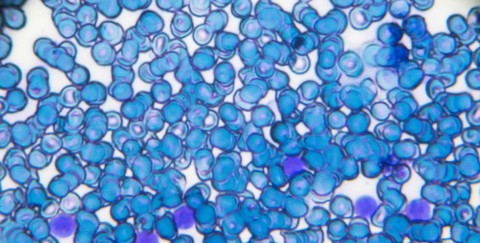 Precision Oncology Ireland
Tailoring cancer treatment for better outcomes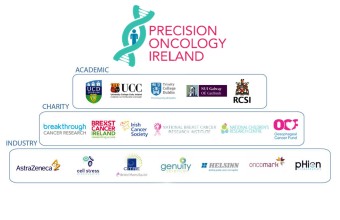 Precision Oncology Ireland is bringing together expertise from academia, industry and patient charities to discover and bring more precise diagnoses and treatments to patients.
The Consortium is part-funded by SFI under the SFI Strategic Partnership Programme, and is co-ordinated by Systems Biology Ireland.
Precision Oncology Ireland brings together universities (University College Dublin, Trinity College Dublin, Royal College of Surgeons in Ireland, University College Cork and NUI Galway), industry (AstraZeneca, Celgene Institute for Translational Research Europe, Cell Stress Discoveries, Genuity Science, Helsinn Group, pHion Therapeutics and OncoMark) and charities (Breast Cancer Ireland, Breakthrough Cancer Research, Irish Cancer Society, National Breast Cancer Institute, National Children's Research Centre and The Oesophageal Cancer Research Fund).
The combined funding commitment from industry, charity and SFI is €11.9 million over the five years of the programme, which launched in 2019.
How do industry partners benefit from the partnership?
Industry partners benefit from the time, focus and expertise that academic scientists bring to the discovery process, which generates the new diagnoses and treatments that industry can further develop and validate for the benefit of patients.
Dr Ian Barrett, Director, Data Sciences & Quantitative Biology, AstraZeneca, says: "Here at AstraZeneca we're excited and feel privileged to be partners in such a comprehensive effort as Precision Oncology Ireland, with a shared purpose of finding ways to improve the care and treatment of cancer patients. Our collaborating project team is diverse and brings together passionate scientists from both our organisations, and it has been fantastic to see the level of engagement and scientific debate. As the work progresses, we also look forward to exploring other shared interests within the broader Precision Oncology Ireland framework."
How do academic partners benefit from the partnership?
By working with industry and charities, academic partners can design and develop their research to maximise the possibility of the findings being able to help patients.
Precision Oncology Ireland's Director, Professor Walter Kolch, says: "As academic researchers, we are experts at making new discoveries about the fundamentals of science and technology. What we need is a conveyor belt of getting the methods discovered by science into use in the clinic, and Precision Oncology Ireland puts the focus on that interface between understanding something at a molecular level and the clinical implementation."
Precision Oncology Ireland's Deputy Director, Professor William Gallagher, says: "There is a big move to avoid over-treating cancer. Based on our original research at UCD and TCD, a test was subsequently developed by OncoMark, called OncoMasTR, that analyses the genetic activity of breast cancers to refine their diagnosis and treatment. That test can accurately identify which patients are at high and low risk of the disease spreading over time. Now with Precision Oncology Ireland we can explore ways to further improve that process of examining tumours at a molecular level, and help to make sure low risk patients can avoid unnecessary chemotherapy."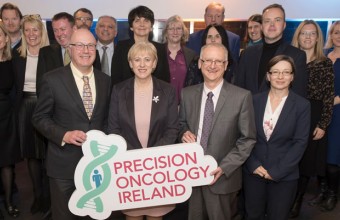 How do patient-charity partners benefit from the partnership?
Precision Oncology Ireland has a strong patient focus, to ensure the research is meeting patient needs and that patients can play an active role in the development of new therapies.
Orla Dolan, Chief Executive of Breakthrough Cancer Research, says: "The more we understand about cancer, the greater the need to find a way to harness this knowledge into actionable intelligence that helps in the clinic. Precision Oncology Ireland takes a personalised approach and applies it to the most personal situation one could face, a disease that impacts both the quality and even length of your life. To have a partnership formed with that common goal is more than strategic, it's meaningful and it is patients who will really benefit. We are proud to be part of it."
Research Impact
It is difficult and time-consuming to move discoveries about precision oncology from the lab to the patient. This is where Precision Oncology Ireland is making a difference by combining the strengths of academia, industry and patient-centred charities.
Working together, the Precision Oncology Ireland consortium will make fundamental discoveries about the biology of cancer, and result in new diagnostic technologies and treatments being moved towards patients and validated in the clinic. By providing a blueprint of how this kind of partnership can work towards a common goal, Precision Oncology Ireland is also creating a pathway for future research to help benefit patients benefit from scientific and technical discoveries.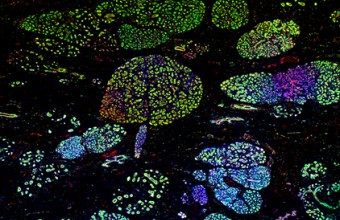 Projects
The Precision Oncology Ireland consortium has specific areas of expertise allowing research to do deep dives into questions of importance. Projects focus on areas such as developing new drugs, refining cancer diagnoses and understanding how the 'micro-environment' of the tumour affects the cancer over time. The work spans from exploring fundamental biology to setting up clinical trials that evaluate new ways of diagnosing and treating cancer. Precision Oncology Ireland projects include:
Fundamental research to better understand how treatment with antibodies can encourage the body to attack tumours
Using samples (such as blood and tumour tissue) donated by cancer patients to examine how molecular signatures can help to predict the outcome of the disease over time, and adjust the treatment accordingly.
Using computer modelling to individualise treatments for children with the cancer neuroblastoma, with the aim of reducing or even eliminating the burden of chemotherapy and its side effects.