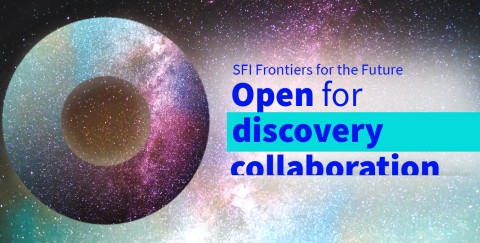 SFI Frontiers for the Future Programme
Supporting excellent independent researchers
The SFI Frontiers for the Future Programme provides opportunities for independent investigators to conduct highly innovative, collaborative research with the potential to deliver impact, whilst also providing opportunities for high-risk, high-reward research projects.
Our Partners
The Programme will be run in collaboration with the Geological Survey of Ireland (GSI) and the Children's Health Foundation (CHF). SFI is open to forging new co-funding partnerships with agencies and organisations. 
Summary
The programme comprises two streams: Projects and Awards
Projects provides funding for high-risk, high-reward research that facilitates highly innovative and novel approaches to research.
Awards provides larger scale funding for innovative, collaborative and excellent research programmes that have the potential to deliver economic and societal impact.
The programme design is driven by feedback from the research community (SFI strategy workshops and SFI Researcher Survey) seeking funding for individual-led research and access to shorter-term project funding.
This programme provides opportunities to address gender imbalance and to provide support for Emerging Investigators that may be returning to research after a period of leave.
Open/Deadlines Dates
Projects Call 2022: Closed.
Awards Call 2022: Open. This Awards call will remain open for applications for the foreseeable future, subject to budget availability.
Application form and Webinar  
The SFI Frontiers for the Future application form is now available on SESAME. Guidance on submission is available in the 'How to Apply' section below.  
The Frontiers for the Future Programme 2022 Webinar is available to view on YouTube
This Webinar provides an overview of the FFP 2022 call including details around the application and review process, as well as a Q&A session between Webinar attendees and the FFP team. 
We highly recommend watching this prior to starting your application. 
A Frequently Asked Questions (FAQ) document for the 2022 call are available HERE
There is also a Quick Reference Guide for the 2022 call available HERE
SESAME guidance webinar for applicants to SFI-CHF co-fund HERE
If you have any questions, please contact FFP@sfi.ie.   
Information Webinar
A webinar outlining the SFI Frontiers for the Future Programme and its application process took place on Monday 13th Febuary 2023.
View webinar below.