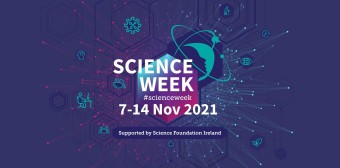 Galway Atlantic Aquarium
Galway Atlantic Aquarium
Explorers Wild about Wildlife on the Seashore: Seashells & Friends |10 November, 10am
The Explorers team in Galway will take you on a ourney down to the seashore where they discover some of the coolest seashell creatures. Learn what seashells are bivalves and which ones are gastropods, how they survive the harsh environment, and what they like to eat! Noirin tells us all about the seashell treasures along the upper shoreline. She also makes a discovery - which looks like a seashell but it's not! Anna finds some of the tiniest periwinkles and top shells with the coolest spirals feasting on seaweeds in the rockpools in the middle shore. Padraic also finds his way to the lower shore hunting down the carnivore dog whelk, that loves to make limpets into soup! 

The Bitter Truth
The Bitter Truth
Online | 9 November, 8pm
The Bitter Truth: Craft Beer, Gin, aperol, coffee? Why do some people crave these bitter drinks yet others are repulsed?  Join TU Dublin Beverage Lecturer and Beer sommelier Judith Boyle and independent drinks consultant and researcher Susan Boyle as the delve into the science of taste and examine why people choose the drink what they drink?  

STEM workshops with Michelle Maher
STEM workshops with Michelle Maher
Johnstown Castle | 11th & 12th November
Experienced STEM facilitator will lead a number of workshops for schools. Students will design, build, and innovate using STEM Kits, recycled materials and plenty of imagination!
WexSci, Wexford Science Festival is one of a series of regional science festivals run in conjunction with Science Foundation Ireland's national Science Week campaign, that aims to reach communities at a local and regional level. WexSci is coordinated by Calmast, the South East region's STEM Hub based at Waterford Institute of Technology, in partnership with Wexford County Council Library Service and Community Development Department, Institute of Technology Carlow, Johnstown Castle, the Environmental Protection Agency and Wexford Science café.
The WexSci team were busy transforming activities to digital formats for people of all ages to explore and discover STEAM in new ways. Our new online festival programme included a full programme of free events including talks, workshops and experiments. The programme included afterschool workshops, opportunities to meet with people working in STEM careers locally, national and international scientists and researchers to taking part in Climate Change Action and Renewable Energy Workshops, exploring the Seal Rescue Centre and discussing topical issues with the Wexford Science Café.