The Sustainable STEM Classroom
Sustainable activities for Curious Minds.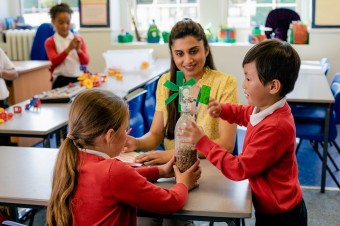 Conscious learning
We recognise there is a growing concern for the environment and that schools are conscious of the equipment they use in the classroom.
Our STEM investigations and design-and-make challenges can be carried out using everyday materials found in the classroom or at home.
Reuse and recycle
We encourage schools and learners to reuse waste materials where possible and avoid including single-use plastics or other plastics, such as glitter, in their work.
Outdoor learning
As more schools discover the benefits of working outdoors, we all have the chance to instil respect for animals and plants in our learners. We like to live by the principle: 'take nothing away and leaving nothing behind.'
Sustainable alternatives
A growing range of school and office suppliers offer sustainable classroom equipment options. We recommend using:
brown paper tape (instead of plastic sticky tape)
recycled paper
A4 whiteboard (to replace scrap paper)
pens and pencils made from recycled materials or sustainable sourced wood
staplers and scissors made from recycled plastic
eco rulers made from recycled materials or sustainably-sourced wood