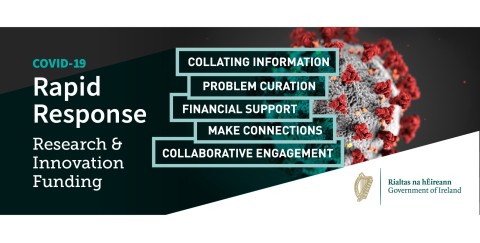 SFI Response to the Covid-19 Crisis
Science Foundation Ireland (SFI) is working together with Government Departments and other agencies (IDA Ireland, Enterprise Ireland, Health Research Board, Irish Research Council and others), and the wider research and innovation community to ensure a coordinated and meaningful contribution to solving some of the challenges we are presented with during the current Covid-19 crisis. 
To this end, we have developed a Five Point Plan which represents SFI's contribution to the Irish Government's National Action Plan in response to Covid-19. The plan outlines key activities where SFI believe we and the research community can make a positive impact.
Importantly, the Health Service Executive (HSE) and The Office of the Chief Medical Officer are the entities responsible for managing all activity in relation to Covid-19. The SFI Five Point Plan presented here is structured to support their activities.
A key area of focus for the future will be to take the lessons learned during the Covid-19 crisis and use them to improve future rapid responses to pandemics or threats of pandemics.