We have witnessed over the last several years the enormous contribution science, research and innovation can have on our everyday lives. Our annual report details the significant achievements and positive impact of the researchers and projects funded by SFI. It also highlights the contribution and value delivered by the Foundation to our society and the economy.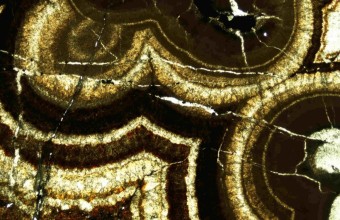 Colloform Sphalerite
SFI Research Image of the Year Winner 2021: Aileen Doran, iCRAG SFI Research Centre for Applied Geosciences
This is an example of colloform sphalerite from the Lisheen deposit, southern Ireland. The image was taken using a transmitted light microscope at the UCD School of Earth Sciences. This sample shows an example of well-developed black dolomite crystals, with some additional calcite. Areas of black matrix breccia (BMB) are closely associated with Irish Zn-Pb mineralization, typically forming a halo around mineralization, and it can host clasts of other carbonates from the Irish orefield (e.g., regional dolostone). By using Cathodoluminescence (CL) imaging, we can study the luminescence characteristics of these crystals to help understand their formation.

Cohesive Ecosystem
Jointly funded SFI-IRC Pathway Programme
Cohesive Ecosystem
Jointly funded SFI-IRC Pathway Programme
A €23 million joint investment to support postdoctoral researchers to become research leaders was announced, co-funded by SFI and the Irish Research Council (IRC). The SFI-IRC Pathway Programme will see 40 early career researchers across all disciplines, developing cutting-edge projects over a four-year period and will ensure greater cohesion across Ireland's research performing institutions.

Tangible Benefits
Creating our Future
Tangible Benefits
Creating our Future
Working in partnership with over 80 Government Departments, public bodies and societal representative organisations, SFI led a national conversation on research. The people of Ireland were encouraged to share their ideas on what they think researchers should explore to create a better future. Over 18,000 submissions were received between July and November 2021. Ideas were generated through conversations on the role of research at over 1,500 online and in-person brainstorms and events, including roadshows that visited every county in Ireland.

Anticipating What's Next
Challenge-based Funding
Anticipating What's Next
Challenge-based Funding
The TAPAS project National University Ireland Galway (NUIG) won €1 million in the SFI Future Innovator Prize Challenge 'AI for Societal Good', while the Farm Zero C project (UCD) won €2 million under the Zero Emissions challenge. A new €2.47 million challenge was launched in partnership with Irish Aid, to develop solutions that contribute to the UN Sustainable Development Goals. A new challenge in collaboration with the Defence Organisation was also launched. Eight teams progressed under challenges in the areas of food waste and plastics. In 2021, SFI was appointed to design and deliver national-scale challenge-based funding under the National Recovery and Resilience Plan, for launch in 2022.

Excellent Research
SFI Frontiers for the Future
Excellent Research
SFI Frontiers for the Future
The SFI Frontiers for the Future programme saw €47 million invested across 70 grants to support excellent independent researchers. This will provide opportunities for early career researchers through to well established leaders to conduct high-risk, high reward research projects. It is run in collaboration with the Geological Survey Ireland (GSI) and the Sustainable Energy Authority of Ireland (SEAI), across nine Higher Education Institutions. 46% of the research grants supported will be led by women researchers and 33% by emerging Investigators.

Top Talent
First woman appointed as SFI Research Professor
Top Talent
First woman appointed as SFI Research Professor
Prof Dimitra Psychogiou was awarded a prestigious SFI Research Professorship to spearhead a pioneering research programme at Tyndall National Institute (TNI) and University College Cork (UCC). She is a world-leading expert in Radio Frequency and wireless communication, and her research will help lead to lower-cost broadband wireless infrastructure, making digital and internet services more accessible to the general public.

Knowledge Sharing
New SFI Industry RD&I Fellowship Launched
Knowledge Sharing
New SFI Industry RD&I Fellowship Launched
The SFI Industry RD&I Fellowship was launched in 2021, to support research, development and innovation (RD&I) in industry. Companies across the world will host a PhD qualified research expert to facilitate cutting-edge, industry-informed research and the sharing of knowledge. 27 awards were made in 2021, co-funded with industry, across a variety of research areas including microbiology, virtual reality (VR), biotechnology, coastal erosion, breast cancer, photodynamic therapy and more.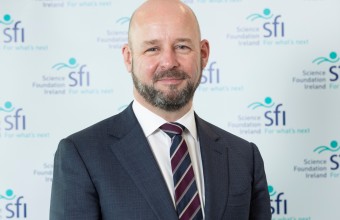 Director General's Statement
Professor Philip Nolan
Fuelled by the ever-increasing pace of discovery and innovation, enormous opportunities lie ahead for Irish-based researchers. With the energy of innovation and the insights of research, we can help shape a future that is healthier, more equal and inclusive, and sustainable. SFI continues to focus on excellence in research and its translation into tangible benefits for our economy and society. We aim to secure our position as a global innovation leader in science and engineering, and to ensure Ireland plays its part in addressing the complex challenges that face our society.
To read the statement in full, download the report.
Year In Review
2021 was a busy year across SFI. Every month we marked new achievements and celebrations. For the full Year in Review download the report.
Download now
JANUARY

iCRAG, the SFI Research Centre for Applied Geosciences, launched the online UNESCO Lecture Series on Earth Materials for a Sustainable and Thriving Society.

FEBRUARY

Researchers at CÚRAM, the SFI Research Centre for Medical Devices at NUIG, developed an injectable hydrogel to help repair the heart muscle after a heart attack.

MARCH

Taoiseach Micheál Martin, TD, and Minister Simon Harris, TD, launched SFI's new strategy to 2025, Shaping Our Future.

 

APRIL

VistaMilk SFI Research Centre, hosted by Teagasc, launched a €1.4 million carbon sequestration research project with Dairy Research Ireland.

MAY

Minister Simon Harris, TD, announced €23 million in funding for the SFI-IRC Pathway Programme to support postdoctoral researchers becoming research leaders.

JUNE

The Farm Zero C team at UCD were announced as winners of the €2 million SFI Future Innovator Prize to help the dairy sector achieve net-zero emissions by 2027.

JULY

Taoiseach Micheál Martin, TD, and Minister Simon Harris, TD, launched the Creating our Future campaign, to gather ideas from the public on what researchers should explore.

AUGUST

Three Royal Society-SFI University Research Fellows were announced, supporting high calibre early career scientists throughout the UK and Ireland.

SEPTEMBER

NUI Galway launched the ReelLIFE SCIENCE cross-border science video competition for young people, supported by SFI Discover.

OCTOBER

Maths Week Ireland, funded by the SFI Discover Programme, took place from 16 - 24 October, exploring the beauty and power of maths.

NOVEMBER

Science Week celebrated its 26th year with the theme 'Creating Our Future.' Science festivals and hundreds of virtual events took place nationwide with strong support from RTÉ.

DECEMBER

Minister Simon Harris, TD, launched a new collaborative paediatric research funding partnership between Children's Health Foundation and SFI, as part of its Frontiers for the Future Programme.
Explore the Annual Report 2021 Chapters