Galway Science and Technology Festival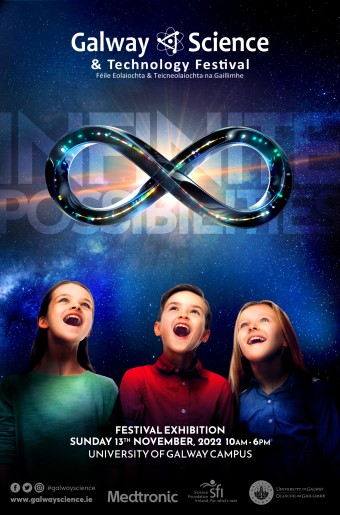 Galway Science and Technology Festival 2022 Announces Programme
The Galway Science & Technology Festival is celebrating 25 years of promoting science, technology, engineering and maths to school going students and to the public.   
The Festival will feature over 200 free events for 35,000 primary and secondary school students.  There are a variety of shows and workshops for schools and the Festival has partnered with Galway City Museum, Galway Atlantaquaria and Brigit's Garden to provide STEM related workshops and tours.   
The Galway Science & Technology Festival Exhibition will return to the University of Galway campus on Sunday 13th of November.  This one-day wonder inspiring the next generation of scientists and engineers is not to be missed.  There will be fantastic interactive stands by world leading global companies, local universities, research centres and local primary and secondary schools.  The Exhibition will also include over 20 educational workshops and shows providing fun and entertainment for the family to enjoy.  The Exhibition is free to attend with tickets for both the shows and workshops released on Saturday 5th of November at 11am on Eventbrite. 
The Science of Hurling 
'The Science of Hurling' - Wednesday 16th November at 8pm at the Black Box Theatre. 
What makes a good hurler a great hurler? Join us for an evening of sports science to discuss new technologies, sports stamina and psychology plus the use of artificial intelligence in the game. Analysing one of the fastest games in the world through science and technology, speakers on the night include Professor Kieran Collins, Gaelic Sports Research Centre, TU Dublin, Des Ryan formerly of Arsenal Academy and Director of Coaching and Performance, Setanta Sports; former Galway hurler and sports psychologist, Tony Óg Regan and Derry camogie player and Performance Nutrition Scientist at Orreco, Niamh Mallon. Tickets €15 via www.tht.ie 
iFADO Miniboat fleet – become an Atlantic Ocean citizen scientist 
An evening of ocean literacy.  As part of the INTERREG Atlantic Area iFADO project, a citizen science action was designed to release a fleet of miniboats from each country of the European Atlantic façade. The action was performed with the educational passages miniboat program dedicated to ocean and environmental literacy. This evening talk will take place on Thursday 17th November at 7pm in the O'Donoghue Centre, University of Galway.  It is free to attend but preregistration is essential on https://galwayscience.eventbrite.ie/   
Music of the Spheres – Exploring Harmony and Resonance in Physics and Music 
Music and Physics – what's the connection? Most of us think of music as a very separate discipline from science, but we'd like to show you how music and physics share a world of resonance, proportion, time and wonder. Explore music and the stars, the harmony of the planets in their orbits, the music of mathematics and geometry, music in medicine, and the music at the heart of the Universe! Join us for a wondrous and music-filled evening of music and physics on Sunday 20th November at 7pm at the O'Donoghue Theatre, University of Galway. Tickets €5 on  https://galwayscience.eventbrite.ie/   
Science of Black Panther 
Join Superhero Scientist Dr Barry Fitzgerald returns for an exciting talk on the Science of Black Panther. In The Science of Black Panther, you'll hear about the real science behind the technologies of Wakanda, in particular the Black Panther suit. Could we ever build a real Black Panther suit?  
This talk will take place on Tuesday 22nd November at 6.30pm at The Eye Cinema followed by a screening of the 2022 film Black Panther: Wakanda Forever.  Tickets are €5 and available from the Eye Cinema website in November www.eyecinema.ie  
The Future of Work by Peter Cosgrove 
This is a public talk for students, parents and the general public which will explore the latest trends, insights that are shaping the future of work and our world.  Globalisation, automation and artificial intelligence is changing how we work.  Peter Cosgrove is Managing Director of Futurewise, a future of work insights company and is an expert of future of work trends. The Future of Work is on Thursday 24th November at 7pm in the O'Flaherty Theatre, University of Galway. Tickets €5 available on https://galwayscience.eventbrite.ie/  This event is supported by Cisco. 
The Festival is supported by main sponsor Medtronic, Science Foundation Ireland, third-level universities in Galway, supporting sponsors and government agencies. Medtronic has been the main Festival sponsor for the past 23 years.  
Follow us on Facebook, Twitter and Instagram @galwayscience. Use hashtags #GalwayScience and #BelieveinScience to join the conversation. Visit GalwayScience.ie for more information.