April 2019
This update describes the SFI consultation process on the draft outline strategy.  On 7 March, SFI ran SFI Engage, a 12-hour open online discussion forum to facilitate feedback on SFI's outline new strategy.  We welcomed feedback from all who were interested in scientific and engineering research and its impact on the world around us.  We had broad participation with participants engaging from all around the world. 
February 2019
We have sought ideas, actions, visions and missions for SFI through extensive data gathering and workshopping.  In total, we consulted with around 1,000 individuals using a variety of approaches including workshops, surveys, and focus groups.  We have spent the past month analysing the data.  This update describes the findings that emerged and what will happen next with the SFI strategy development.  
Findings emerging from the consultations
After extensive consultation, we have analysed and aggregated all the data collected.   There were 1,931 recommendations which came from all the inputs we received from our internal and external strategy consultation engagement, namely:
Having clustered the raw data, common themes emerged.  From the survey data, the most common theme that came through is for SFI to support more frontier/basic research, followed by SFI funding more smaller project grants and more schemes for early-stage career researchers.  The main ask from the survey respondents is for SFI to review and balance our portfolio mix.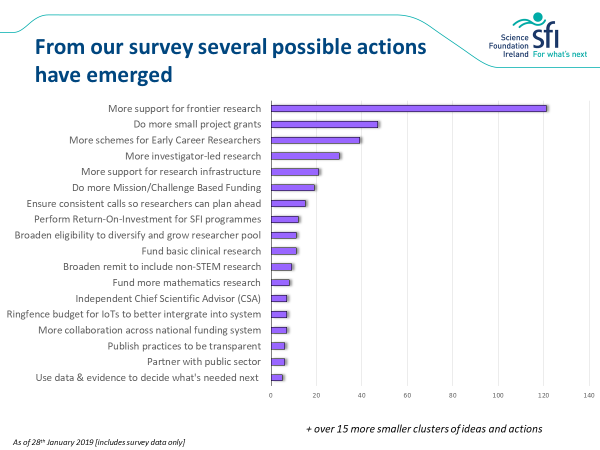 Through our interactive workshops, different priorities and actions arose including SFI taking a more collaborative approach across the national funding system and taking a more interdisciplinary and challenge-based funding approach to investment.  Like the survey data, more schemes and better support for early-career researchers also emerged as an action.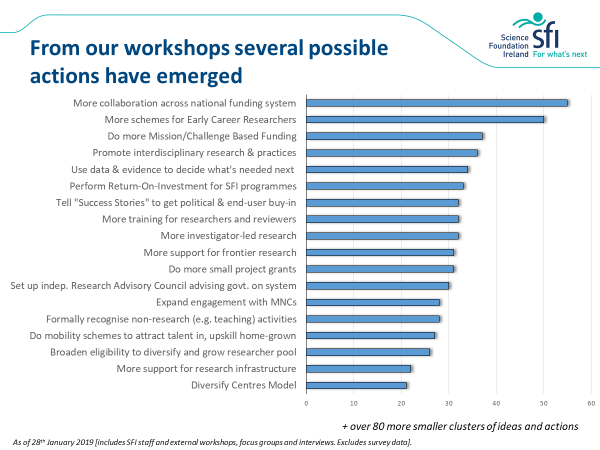 While these recommendations do not represent SFI's formal position, they are invaluable for informing the development of SFI's new strategy.  The Strategy team are now combining these data with global best practice and emerging trends for funding agencies. 
We have recently worked with SFI staff and Board on developing SFI's new vision and mission statements.  The Vision and Mission statements are important to SFI as they will set the direction and help the organisation focus attention on the consultation actions that are strategically important for Ireland.  We are now compiling a draft outline strategy which summarises the critical elements of the new strategy.
Downloads
We are sharing the 'raw' data that was captured from the survey, workshops and focus groups. The spreadsheet contains the 'raw', unprocessed data that has been generated through the SFI's strategy development consultation. SFI is publishing this dataset to keep all stakeholders informed, as part of our commitment to the strategy development process being open and collaborative.  Please note a very small number of entries were removed that were deemed personal and/or unprofessional in nature. 
The 'raw' data can be downloaded here.
If you require further feedback or clarification regarding generated actions, please contact strategy2025@sfi.ie
December 2018
In December 2018 SFI hosted a webinar to give an update on the development of the New SFI Strategy: